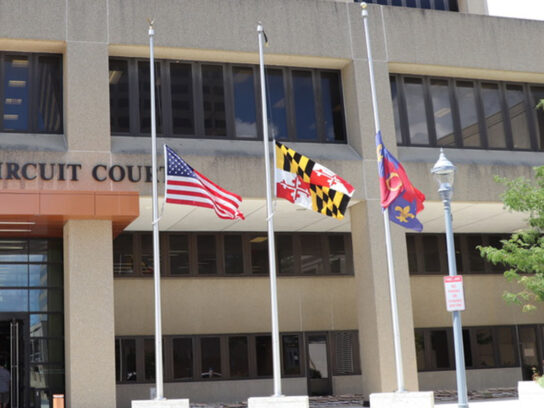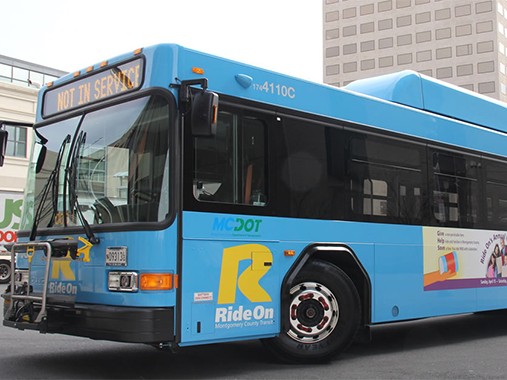 Montgomery County flags have been lowered to half staff to honor Michael Miller, a Montgomery County Department of Transportation employee who died Wednesday evening from the coronavirus.
He is the first county employee who has died of COVID-19. Miller, who was 60 years old, helped manage the MCDOT Transit Services Division's Ride On bus fleet at the Silver Spring/Bethesda Depot. He was a county employee since 2011 and lived in Prince George's County.
Miller had been out of work with illness since March 30. Montgomery County learned of Miller's coronavirus diagnosis on April 7. Public health staff in Prince George's County conducted a contact tracing investigation, according to Montgomery County.
The county government says after learning about Miller's diagnosis, "Work spaces were isolated and cleaned. Members of the depot work team were notified about potential exposure to COVID-19."
Since Thursday, MCDOT's Ride On passengers have been required to wear face coverings while aboard buses. MCDOT said in a statement that earlier this week, Ride On bus operators were provided with face coverings by the county government.
Several Montgomery County officials have released statements offering condolences for Miller, including County Executive Marc Elrich.
"The loss of a valued County employee is hard on everyone, especially during these difficult times," Elrich said.
It is with great sadness that I announce the death of @Mcdotnow employee Michael Miller, who passed away from complications of COVID-19. The loss of a valued @MontgomeryCoMD employee is hard on all of us. Our thoughts are with his family and friends. https://t.co/LZzbchvpCr pic.twitter.com/izDIwhsG2J

— Marc Elrich (@Marc_Elrich) April 16, 2020
Montgomery County Council President Sidney Katz released a statement on behalf of the county council offering his condolences to Miller's widow, Donna, and his children. He also pledged that the community "will get through [this health crisis] together as One Montgomery."
Katz said, "Our health experts have advised us that the number of deaths in our community will continue to rise. We understand this on a factual level; however, it is the emotional toll that is exceedingly difficult for all of us as a community to grapple with and process. Every death is an immeasurable loss to our county. Each number you see reported represents a parent, grandparent, sibling, friend or loved one. Each person contributed to our community in his or her own way."
My statement on the passing of Montgomery County employee, Michael Miller from COVID-19. My thoughts and prayers are with his family. https://t.co/07WiNm2ihh

— Sidney Katz (@MC_Council_Katz) April 16, 2020
A statement from MCDOT Director Chris Conklin said Miller's coworkers "are mourning the loss of a great friend and colleague."
"Mike worked hard every day to make sure buses left the depot in good condition, and on time, to serve the residents of Montgomery County," said Conklin.
A statement from MCDOT Depot Chief Andre Lucas says Miller was appreciated for "his infectious smile and caring personality," as well as "his willingness to go above and beyond at any moment to get the job done."