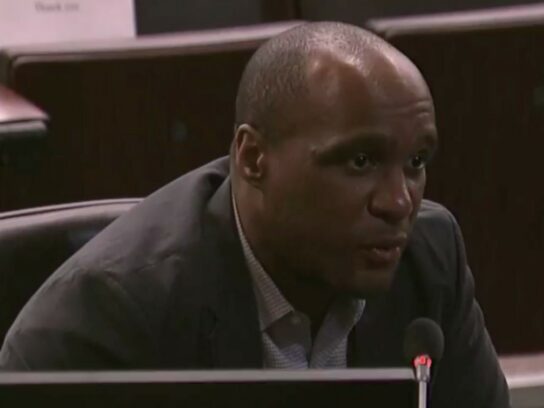 The Montgomery County Council sat as the Board of Health at a meeting Tuesday. 
The first topic on the agenda was a COVID-19 update from County Health Officer and Chief of Public Health Services Dr. Travis Gayles and Office of Emergency Management and Homeland Security Director Earl Stoddard. 
Gayles noted that circumstances have changed since he last sat before the council on March 3 and since the first coronavirus cases in the state and county were announced on March 5. He said cases in the county have increased, and there is now evidence of community transmission. International travel was the reason for most of the initial cases. Gayles said he's seeing younger people, as in below 65, being impacted more than before. 
Councilmember Nancy Navarro raised concerns about Monday's remarks from President Donald Trump, who wants to re-open the U.S. economy and possibly scale back social distancing measures and asked for Gayles' opinion. He did not hold back.
"What the president is saying is recklessly irresponsible, it is not based upon fact, and quite frankly it's disgusting," Gayles said. 
He said the president's words have no place in public health and undermine guidance being put out to keep Americans safe. Gayles said any message from Public Health Services in the county will continue to emphasize social distancing.
Stoddard said that by the end of the day Tuesday, there will be over 600 signs around the county telling people not to use spaces like pavilions and basketball courts. He also said law enforcement will take a more overt role in enforcing social distancing. 
In terms of testing availability, Stoddard said he did not expect that circumstances would come to a point where the county would have to consider non-FDA approved coronavirus tests. He said the county is considering tests approved in other countries in order to increase capabilities. 
He said he's been hearing "it'll come tomorrow" in regard to test kits for two weeks. 
Gayles said county Public Health Services is surveying county hospitals to assess needs for supplies and number of beds. Hospitals are not currently experiencing very heavy burdens, but the county is not waiting for that to happen. He said the county is looking at alternative facilities for more bed space as well as how to maximize space at current hospitals.