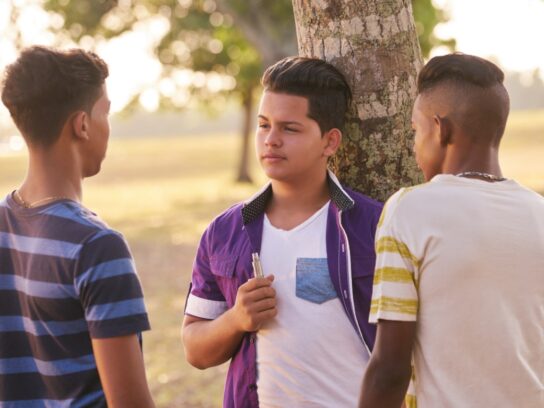 Montgomery County Councilmembers Gabe Albornoz and Craig Rice are holding a press conference in Rockville on Monday to discuss initiatives to address the vaping crisis.
During the press conference, they will talk about ZTA 19-06, a zoning amendment that would prohibit vape shops that distribute e-cigarettes from opening within a half-mile of middle and high schools. They will also discuss Bill 29-19, a Board of Health Regulation that would prohibit e-cigarette manufacturers from distributing the paraphernalia to retail stores that are within a half a mile of middle and high schools.
The goal of the press conference is to discuss measures that would protect students' health.
🚨Councilmembers @albornoz_gabe and @RicePolitics will hold a press conference
on new e-cigarette measures
on Monday, Sept. 16 at noon at the @MoCoCouncilMD building. 👀For more details, see https://t.co/3aQd3HODkU. #VapeFreeMontgomery #MoCo #MoCoCouncil pic.twitter.com/ejbt0Pepvu

— Montgomery Council (@MoCoCouncilMD) September 13, 2019
The two councilmembers will be joined by many other leaders from the council, the county, and the school board including:
Dr. Travis Gayles, Health Officer and Chief, Public Health Services, Montgomery County Department of Health and Human Services
Council President Nancy Navarro
Councilmember Tom Hucker, chair, Transportation & Environment (T&E) Committee
Council Vice-President Sidney Katz, chair, Public Safety (PS) Committee
Dr. Maria Navarro, Chief Academic Officer (CAO), Montgomery County Public Schools (MCPS)
Ms. Ruschelle Reuben, Associate Superintendent, Student and Family Support and Engagement, Montgomery County Public Schools (MCPS)
Ms. Pat O'Neill, vice president, Montgomery County Board of Education
MyMCMedia recently spoke to Karla Silvestre, an at-large member for the Board of Education, about how MCPS plans to address youth vaping problems.
Silvestre mentions Monday's press conference in the interview.
[hr]
Experts from across Montgomery County will appear on MCM Connects: Our Vaping Crisis, a program to be broadcast on MCM Channels 19, 21 and 995 and live-streamed on mcmlive.org, Monday, September 16 at 7 p.m. They will discuss what parents, schools, law enforcement, small business, and the medical community are up against and what this community can do to help stop this rapidly growing problem.