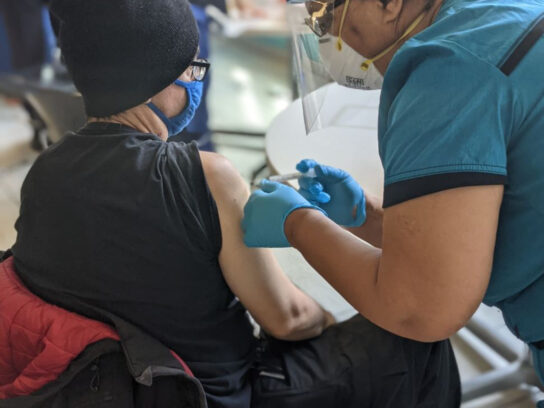 Shepherd's Table, which offers meals, clothing and other resources to Montgomery County's most vulnerable people, held a pop-up clinic in its dining room at Progress Place in Silver Spring, vaccinating 132 people against the coronavirus on March 9.
The  clinic was a joint program designed to reach some of the county's neediest people. Montgomery County's Services to End and Prevent Homelessness (SEPH), Montgomery County Health and Human Services and Interfaith Works joined with Shepherd's Table. Volunteer nurses vaccinated Shepherd's Table's meal guests and clients.
"The clinic was successful as clients waited in line and left with a smile on their face. The coordination of this clinic was no easy feat, but was achieved through partnership, collaboration, and a strong desire to save lives," Jilna Kothary, director of development and communications for Shepherd's Table, wrote in an email to MyMCM.
She called the clinic "proof that Shepherd's Table's mission to welcome all for meals and access to social services provided with compassion and respect" as so many people agreed to be vaccinated.
The organizations are hoping to repeat the effort in the near future.
Shepherd's Table Executive Director Manny Hidalgo, whose brother died from COVID-19 in 2020, said, "I've been relentlessly committed to getting everyone vaccinated against this deadly disease. To be able to reach so many of whom my brother often referred to as 'the least and the lost,' was a blessing of immeasurable proportions. Going forward, we will continue to vaccinate as many people experiencing homelessness and food insecurity as possible."
Hidalgo estimated that 80,000 county resident are experiencing homelessness or food insecurity.
Yesterday, 132 clients and a few volunteers received Covid-19 vaccinations in our dining room. Thanks to Kim Ball, SEPH, Mark Hodge, @MoCoDHHS, volunteer nurses, Daisy Lukose and her team for mobilizing their resources to prioritize our clients' vaccination! pic.twitter.com/oEB5n9vqgD

— Shepherd's Table (@shepherds_table) March 10, 2021