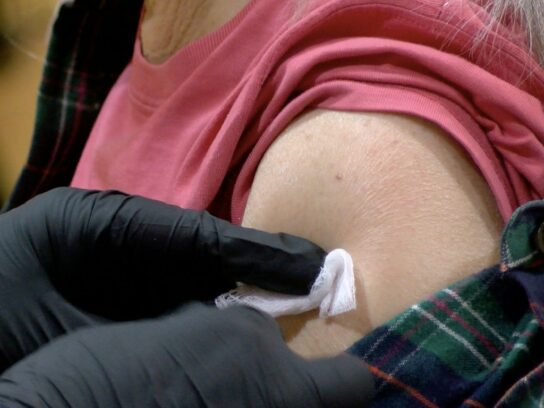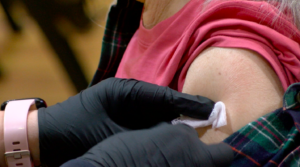 Montgomery County moved some COVID-19 vaccination sites as officials expect increased demand for booster shots pending federal approval.
A Food and Drug Administration (FDA) advisory committee will meet on Thursday and Friday to discuss Moderna and Johnson & Johnson COVID-19 booster shots, per a release from the FDA.
Sean O'Donnell, Public Health Emergency Preparedness Manager for County Health and Human Services (DHHS), said he hopes the FDA will give its approval, which would be followed by guidance from the Centers for Disease Control and Prevention (CDC) and state. During a virtual media briefing Monday with County Council President Tom Hucker and Council Vice President Gabe Albornoz, O'Donnell noted the county started moving vaccination sites, beginning with moving from the Upcounty Regional Services Center in Germantown to Montgomery College Germantown last week. As of Monday, operations on some days have moved from the Dennis Avenue Health Center in Silver Spring to the Silver Spring Civic Building. Due to prior bookings, the site at the civic building will be open Monday and Thursday to start, and the Dennis Avenue site on Tuesday and Wednesday. Going forward, the county plans to operate at the Civic Building Monday-Thursday.
"We really appreciate their partnership and the greater amount of space they give," O'Donnell said.
"We are preparing for a greater number of people to come and get boosters once Moderna is approved. A lot of our residents got Moderna early in our distribution and so we expect that a lot will become eligible when that's approved," O'Donnell said.
The county also moved vaccinations to the East County Recreation Center as of Monday.
Sites will still offer first and second doses of Pfizer and Moderna vaccines. See county-run vaccination site locations and appointments here. Appointments are recommended but walk-ins are allowed.
At the start of the month, Gov. Larry Hogan clarified COVID-19 booster shot eligibility in Maryland as he said the federal government has been offering confusing guidance. Those who received the Pfizer vaccine can get a booster shot as soon as six months after their second dose if they are ages 65+, or if they are 18+ and have underlying health conditions or work/live in high-risk settings. Moderna recipients who are immunocompromised can also receive boosters, however there is no approval or guidance for the wider population. There is still no federal guidance about booster shots for the J&J vaccine.