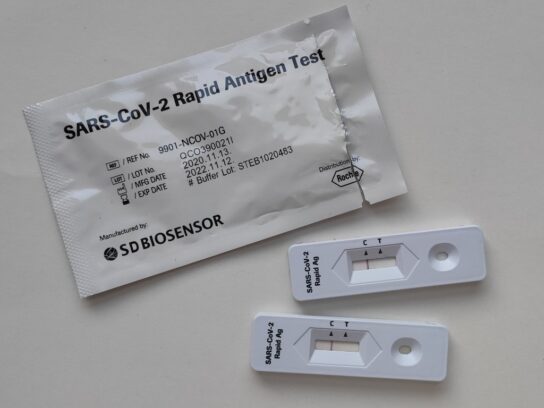 The Maryland Department of Health recently gave COVID-19 rapid at-home test kits to the county to distribute in groups where there is an increased risk of exposure or decreased access to testing, according to a Montgomery County press release.
The groups identified by the county are considered at risk due to the following circumstances:
Occupations including food service workers and construction workers
Vaccination status
Living in an area with lower vaccination rates
Limited access to other testing resources due to access to health care
Transportation
Work hours
Those with decreased access to other testing resources due to a physical or developmental disability
Montgomery County received approximately 10 thousand test kits from the state in late November and has been working with community organizations to distribute them. So far, the tests were distributed at county-operated testing sites, but on Dec. 13, the kits started being distributed to specific groups, according to the release.
Montgomery County Health and Human Services Public Information Officer Mary Anderson said currently there are about 5 thousand test kits left. Those test kits will be going to community-based organizations that the department works with and their minority health initiatives.
"As we have done throughout the pandemic, we are working hard to make sure the test kits are available to residents who live in communities disproportionately impacted by COVID-19 illness and deaths, as well as workers who regularly interact with large numbers of people in the community, some who are not vaccinated," said County Executive Marc Elrich. "Going into the upcoming holidays, quite frankly, our path forward is going to be determined by how well we can vaccinate against, test for, contain, and mitigate this virus. By procuring and distributing more rapid tests throughout the community to those who need them most, we will help keep everyone safer."
The at-home test kits may not be accepted for those who require routine testing for jobs, pretravel testing and school quarantine/isolation. The county urges residents to check with their jobs, schools and travel destinations for acceptable testing options.