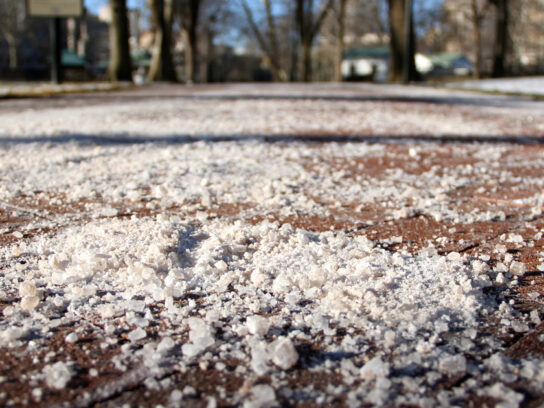 County officials and WSSC water are recommending that homeowners be "salt wise" this winter. It means use less salt on driveways and sidewalks during winter storms because of environmental risks. The risks include salt landing in storm drains and streams. Water sources like the Patuxent and Potomac rivers also can be affected by salt. These water sources provide water to 1.8 million people in Montgomery and Prince George's counties.
The salt also can damage concrete, plants, and lawns. It can also harm your pets. "We want homeowners to understand that over salting does not make sidewalks and driveways safer rather it puts our water eco-system at greater long-term risk of damage," said County Executive Marc Elrich.
Salt levels have been on the rise in local streams and are now posing risks to water sources and animals living in the area. "Over the past 30 years, we have seen a dramatic increase in salt levels the Potomac and Patuxent rivers," said WSSC Water General Manager and CEO Carla A. Reid.
How can you be #SaltWise this winter?

◾️ Shovel ice and snow early and often.
◾️ Use one 12-ounce cup of salt for 10 sidewalk squares or for a 20-foot driveway.
◾️ After storm events, sweep up excess salt for reuse.

Learn more ➡️ https://t.co/FNy9vHZlfG. pic.twitter.com/k3OqHHCts9

— Montgomery County MD (@MontgomeryCoMD) December 9, 2021
MDOT is advising residents to call 311 if they see large piles of salt throughout the county. Click here for more information on salt use