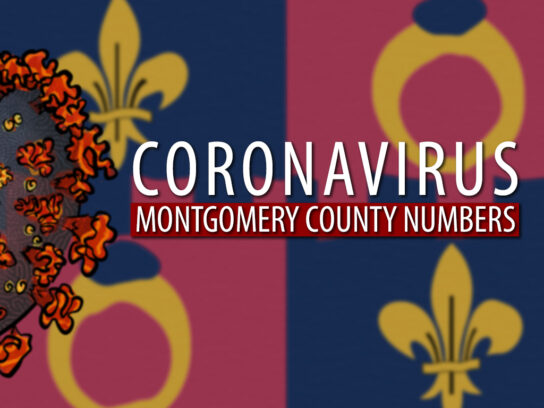 As the highly contagious Omicron continues to spread, Montgomery County is recording a high number of new COVID-19 cases but its percent of occupied hospital beds is in the low utilization range.
Montgomery County reported 880 new cases of COVID-19 on Tuesday.
A day before, on Dec. 27, the number of cases per 100,000 residents over the past seven days was 649.5 which is considered high transmission, according to the Montgomery County COVID-19 information portal.
The county reported a 230.2% increase in new cases per 100,000 residents during the past seven days when compared to the previous seven days.
The test positivity rate over the past seven days as of Dec. 27  is 2.7%, which is in the low transmission range.
According to the county, as of Dec. 27, 68.4% of hospital inpatient beds were occupied, which is considered low transmission. 74.6% of the intensive care beds were in use, which also is considered in the low transmission range.
However, the number of beds occupied by patients with COVID-19 was 17.2%, which is considered high. That number has been on the increase since Nov. 24, when it was five percent.
Altogether, the county recorded 96,701 cases and 1,685  deaths.
There have been long lines at county testing sites, and appointments fill up quickly. To register for an appointment, click here.  The county advises residents to keep checking the website as appointments may be added, when possible.
Residents must have an appointment to be tested at the Upcounty Regional Services Center, Montgomery College-Rockville Campus, East County Recreation Center and the Silver Spring Civic Building. These locations will not take walk-ins.
At about this time last year, on Dec. 8, 2020, the Maryland Department of Health reported 402 new COVID-19 cases in Montgomery County. The county had a rolling seven-day average of 5.98% for positive COVID-19 tests.
Heading towards the end of 2021, we are facing a new chapter against COVID. As you go about the holidays, plz show compassion for family, friends & neighbors. Get a booster shot as soon as you can. If you haven't gotten a vax, plz consider doing it now. https://t.co/3x0UnUZFQp pic.twitter.com/HVWDmL2p8m

— Montgomery County DHHS (@MoCoDHHS) December 27, 2021
Related Post
Montgomery County Daily COVID-19 Cases Top 400 for 5th Straight Day