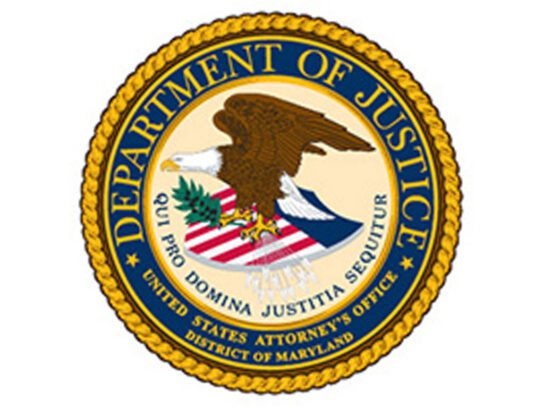 A Washington, D.C. man pleaded guilty Monday to federal charges for committing an armed commercial robbery and two carjackings in Silver Spring, the Maryland U.S. Attorney's Office announced. Rashaun Onley, 22, also admitted using, carrying, and brandishing a firearm during and in relation to a crime of violence.
In the early morning of Feb, 5, 2021, Onley and a co-defendant entered a convenience store in Silver Spring and selected a few items before heading to the counter, according to the plea agreement. The suspects then held two store employees at gun point and demanded cash from the register. Officers with the Montgomery County Police Department (MCPD) obtained surveillance video of Onley and his accomplice committing the robbery.
At approximately 6 p.m., Onley, his co-defendant, and co-conspirator 1 carjacked a man driving a Lexus in Silver Spring. Onley approached the victim with a gun and said "I'm gonna blow you up, give me your money and keys," according to the Maryland U.S. Attorney's Office. The victim feared for his life and handed over his property.
About two minutes following the Lexus carjacking, Onley and his co-defendant approached a woman in a Mercedes. Onley ordered the victim to "get out" while pointing a gun at her. MCPD investigators interviewed the victim and obtained surveillance footage of the carjacking. The Lexus was found abandoned nearby.
Surveillance video captured Onley and his accomplice arriving at the co-defendant's residence — an apartment located in Washington D.C. — 30 minutes after the previous carjacking. Both men were wearing the same clothing visible in the surveillance videos of the Silver Spring carjacking of the Mercedes and in the armed robbery of the convenience store.
On the evening of Feb. 26, investigators monitored Onley and co-defendant through a social media livestream that placed them at a hotel party in Arlington, Va. MCPD officers noticed the presence of semiautomatic handguns and proceeded to apprehend both men. Prior to the apprehension, the co-defendant threw a bag from the hotel room window. Police found two loaded firearms and 21 rounds of .40 caliber ammunition in the bag.
If the court accepts Onley and the government's plea deal, he is expected to be sentenced between 12 and 16 years in federal prison. A U.S. district judge has scheduled sentencing for August 19, 2022 at 10 a.m.