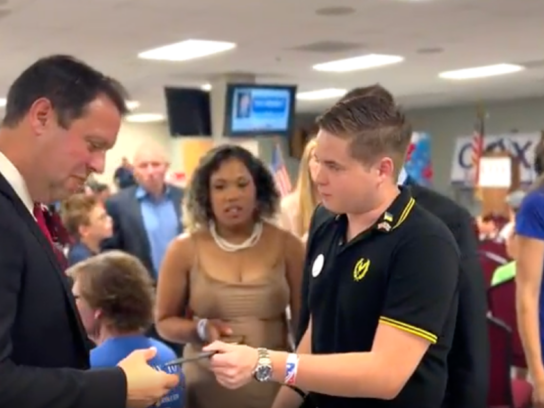 Maryland Republican gubernatorial nominee Dan Cox accepted a gift from the Proud Boys at his primary victory party in July, a video obtained on Friday by The Washington Post shows.
"Here, this is a present from Maryland Proud Boys to you," a young man wearing a shirt with a Proud Boys logo tells Cox, as he hands him a comb. 
The Proud Boys, a far-right extremist group, have been associated with the storming of the U.S. Capitol on Jan. 6. 
Joshua Pruitt, a Silver Spring resident who was in the process of joining the Proud Boys, was sentenced to four years in prison this past August for his participation in the Capitol breach. 
"In the noise of the victory celebration, it was hard to hear what was being said," Cox said in a statement to The Post. "I was a surprised by him handing me something, and frankly, I did not even keep the comb."
Cox also told The Post, "I had never seen him before, and I have not seen him since. I have no affiliation with anyone involved in violence on January 6th, period."
The Post said the video was posted publicly on a Vimeo account under the name of Dan Cox. The video was removed after The Post contacted the Cox campaign for comment, according to the newspaper. 
Cox faces Maryland Democratic gubernatorial nominee Wes Moore in the upcoming Nov. 8 general election.
Carter Elliot IV, a spokesperson for the Moore campaign responded to the video in a tweet and said, "Cox proudly bused people to the Capitol insurrection on January 6th and now years later, he's still proudly associating himself with these dangerous extremists."
Elliot added, "Dan Cox is unfit for public service, and this is just another clear indication of that."
Photo Credit: The Washington Post