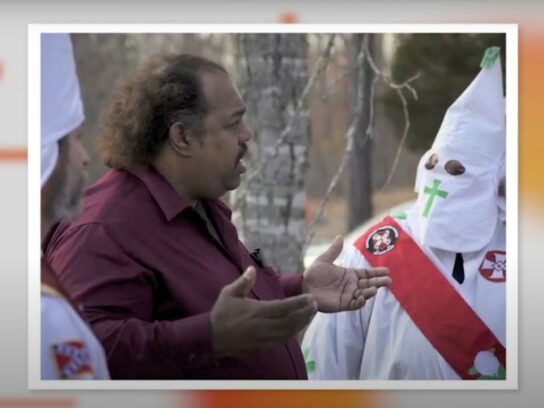 Strathmore in North Bethesda is offering a campus-wide outdoor nighttime exhibit called "Monuments: Creative Forces" through Oct. 25.
The purpose of the exhibit is to challenge norms about who monuments are made for, according to the music center. Australian artist Craig Walsh honors six artists who are alive and actively contributing to society. Video portraits of the six artists are projected onto trees throughout Strathmore grounds.
One honoree is Silver Spring resident Daryl Davis who leads The Daryl Davis Band and has performed with artists like Chuck Berry, Jerry Lee Lewis and B.B. King.
Davis aims to create harmony on and off stage. His monumental legacy lies in his journey with Ku Klux Klan members and white supremacists. Davis, a Black man, said he still continues his work during the COVID-19 pandemic by connecting with white supremacists online and over the phone. He said he does not convert white supremacists, rather he gives them reason to think and they convert on their own.
Davis said he has interacted with just over 200 white supremacists who changed their mindsets, including neo-nazis, individual white supremacists and many klansmen. He will be part of a virtual panel discussion about Strathmore's exhibit Oct. 19 at 7 p.m. Residents can register online.
MyMCMedia spoke with Davis about his role in the exhibit.