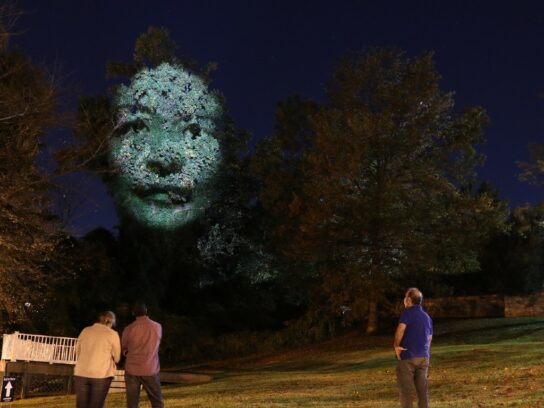 Strathmore's campus-wide outdoor nighttime exhibit "Monuments: Creative Forces" is now open through Oct. 25.
The exhibit by Australian artist Craig Walsh honors six artists whose work and artistic endeavors have impacted Montgomery County's community, according to the press release.
"We're thrilled to be able to honor and celebrate the way these artists are impacting the community," Strathmore Artistic Director Joi Brown said in the press release.
Expansive video portraits of the honorees are projected onto towering trees throughout the Strathmore grounds.
"The exhibition allows Strathmore to leverage our entire campus to create a comfortable and socially distant environment for the community to engage with and enjoy the arts during the ongoing pandemic," Brown said in the press release.
The exhibit is open every day, but free tickets are available Sunday through Thursday. Due to COVID-19, visitors must reserve tickets online.
https://www.instagram.com/p/CF-meKThsuZ/
Here are the honorees for this exhibit:
DARYL DAVIS:  Davis is an accomplished musician who's performed with Rock & Roll Hall of Famers Chuck Berry, Jerry Lee Lewis, and B.B. King. While that's enough to be a highlight of anyone's life, it's Davis' work in race relations, specifically with the KKK that makes him a force of nature.
TERRON COOPER SORRELLS: While the horrors and atrocities of slavery are well documented, what makes painter and printmaker Sorrells a force of nature is how his work shines a light on the resilience and perseverance of people desperately determined to be free.
MARJAN NADERI: Naderi, 2020 DC Youth Poet Laureate, is a Muslim Afghan American author, performer and educator. What makes Naderi a force of nature is how she elevates the voices of Afghan American women through her art.
BE STEADWELL: This musician, filmmaker and storyteller strives to make other black girls, queers and introverts feel seen and loved. Steadwell's unapologetically queer identity and bold, uncensored exploration of complex intimate relationships make her a force of nature.
YOKO K. SEN: Sen is an ambient electronic musician with a mission to transform the sound environment in hospitals. Sen straddles the worlds of art and health, but it's her bringing these seemingly disparate areas together that makes her a force of nature.
C. BRIAN WILLIAMS: What makes Williams, founder of Step Afrika!, a force of nature is how he remains authentic in honoring the history of the African American tradition of stepping while pushing the boundaries of the art form through innovative and bold artistic choices.