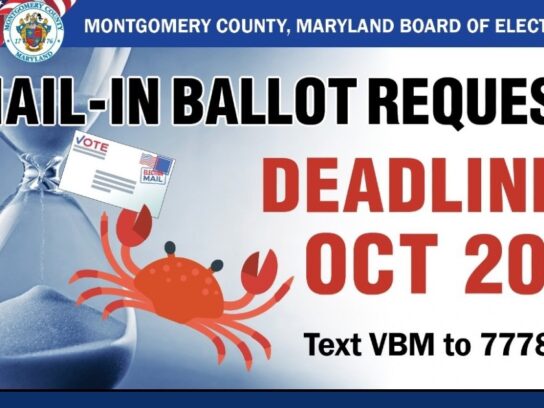 For voters who are opting to vote by mail, the deadline to request mail-in ballots is Tuesday, October 20. It is important to note that ballots will not be automatically mailed to voters for the November 3, 2020 election.
"You can easily do it on your cell phone- text the letters VBM to 77788," said Dr. Gilberto Zelaya with the Montgomery County Board of Elections during the county's weekly virtual media briefing on Thursday.
In addition, more than 40 ballot drop boxes are now available for voters across the county. Dr. Zelaya says more are expected to be installed before the onset of early voting. Click here to see the nearest drop box location.
Here are highlights for voters from the briefing:
According to the Montgomery County Board of Elections website– to request a ballot you can also:
Visit the Mail-In Ballot Request page on the Maryland State Board of Elections website. You must provide your complete information so voter registration can be verified.
In step six, the "Mail-in Ballot Request," select "I would like to receive a mail-in ballot."
Under delivery type, select "in the mail." The other types are only recommended for overseas voters and voters with disabilities. They require a bipartisan team of poll workers, or Election Judges, to review your ballot and hand copy your choices before your votes can be counted.
If you request a ballot, Board of Elections officials are urging residents to vote as soon as possible using that ballot. Postage is prepaid, so you can return it by mail or at a Board of Elections drop box.
There are only 4 days left to request a Mail-in ballot. Text VBM to 77788 or go to 👉 https://t.co/GSwFYbWVbq

*For the closest MoCo ballot drop box, text BOX plus Zip Code to 77788 (example: BOX 20879)!#YourHealthYourVoiceYourVote #MakeAVotePlanMoCo #MoCoSecuringYourVote2020 pic.twitter.com/faYPNmOwrg

— MontgomeryMDVotes (@777Vote) October 16, 2020
See related posts below: 
Ballot Drop Boxes Available in Montgomery County for 2020 General Election