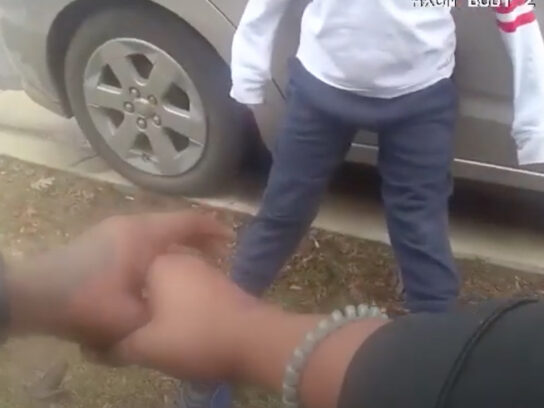 The outcome of an internal investigation into a 2020 incident, in which body camera footage shows two Montgomery County police officers screaming at and handcuffing a kindergartner who left his school, cannot be revealed due to state law, MCPD Chief Marcus Jones said during a council meeting.
Council President Tom Hucker convened a discussion Tuesday afternoon with councilmembers, Jones, Montgomery County Public Schools (MCPS) Superintendent Dr. Jack Smith and County Administrative Officer Rich Madaleno. On March 26, MCPD released nearly hour-long body camera footage of the Jan. 2020 incident. The video shows MCPD Officers Dionne Holliday and Kevin Christmon screaming at the East Silver Spring Elementary School then-kindergarten student, at one point, right in his face, as the five-year-old boy cried so hard that he began coughing. The officers told him his parents should beat him when he got home, according to the video footage. They also handcuffed the child.
"If you had a definition of school-to-prison pipeline, you could slot in this 51-minute video," Councilmember Will Jawando said Tuesday. During the meeting, Hucker noted that not every question would be answered due to pending litigation against the county, school board and individual police officers. Jones said state Public Information Act provisions regarding government employees, including police, prohibits him from sharing the police department's investigation outcome.
"Although I would love to be able to share this information from the investigation, the law does not allow me to do so," he said. Jones said similarly, he could not share what disciplinary action was taken against Holliday and Christmon, who are still employed by MCPD, but he did say that action was taken.
Jones said the officers could still be called for an incident similar to the one being discussed.
Councilmember Will Jawando asked Jones, "In your personal opinion, is there any reason that any adult — let's set this situation aside — any adult should scream at the top of their lungs inches from a child's face, for any reason?"
Jones responded, "No."
He said a complaint about the incident was filed within the same month of it occurring, in Jan. 2020. When asked why Holliday and Christmon weren't interviewed as part of the investigation until Aug. 2020, Jones said the interrogation of officers happens at the very end, after investigators complete other interviews and collect all evidence. Jones himself reviewed the body camera footage around Dec. 2020.
MCPS Superintendent Smith said he could not share whether an East Silver Spring school employee filed a report following the interaction, due to ongoing litigation. He said MCPS became aware of the incident in Jan. 2020 through a "serious incident report" that is filed when a student leaves campus. He said MCPS began further investigation when more facts came out in news coverage in Jan. 2021, following the kindergartner's mother's lawsuit. Smith said when body camera footage was released March 26, MCPS began to reexamine the incident.
CAO Madaleno said the county became aware of the incident in Jan. 2021, when it was reported by the media.
Councilmember @WillJawando asks Police Chief Jones: "In your personal opinion, is there any reason that any adult — let's set this situation aside — any adult should scream at the top of their lungs inches from a child's face, for any reason?"

Jones responds: "No." @mymcmedia https://t.co/Ksj71wGeBB

— Maryam Shahzad (@maryam_mcm) April 6, 2021