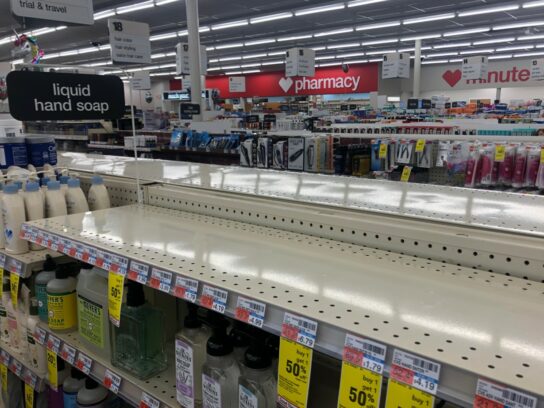 MyMCMedia stopped by Target at the RIO Lakefront in Gaithersburg to explore reports that retailers are experiencing product shortages due to coronavirus-motivated shopping.
Hand sanitizer was completely sold out, in full-size and in the mini's/travel section. One customer noted he was looking for it and was unsuccessful.
Cleansing wipes like Clorox sparsely lined shelves. Over-the-counter medications like Advil and Tylenol were scattered as well.
At an earnings call this morning, Target CEO Brian Cornell said the company is monitoring the coronavirus situation by the hour. 
"We've certainly seen a U.S. consumer that's starting to stock up on household essentials, disinfectants, food and beverage items," Cornell said. "All those staple items that the CDC has recommended guest add to their pantry."
"And certainly we've seen aggressive shopping across the country in our stores. So, we're working closely with our domestic vendors, with our partners to make sure that we're elevating inventory in preparation for what we think is going to be a continued demand for stock-up items," Cornell said. 
At CVS Pharmacy in Cabin John Village in Potomac, hand sanitizer was also sold out. Giant Food, a few stores down from the CVS, was out of Clorox wipes. Home Depot in Potomac was out of face masks but is expecting more tomorrow.