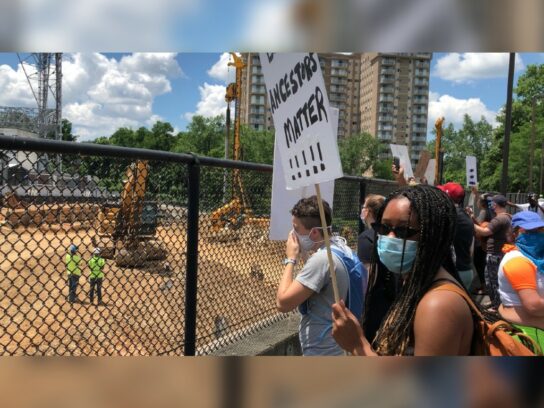 UPDATED NOV. 23
Housing Opportunities Commission of Montgomery County Chair Roy Priest said Tuesday it was still possible that Charger will purchase Westwood Tower Apartments in Bethesda.
"Due to the ongoing litigation at Westwood Tower Apartments, Charger Ventures and HOC were not able to close on the transaction on the required closing date. However, Charger continues to express its strong interest in resuming negotiations to purchase the property – its withdrawal was in accordance with the date set forth in the purchase and sale agreement," Priest explained in an email to MyMCM.
___________________________________________________________
Charger Ventures no longer is interested in purchasing the Westwood Tower Apartments in Bethesda, whose parking lot lies atop the former Moses Cemetery.
The company dropped its contractual rights relating to the property. It previously had worked out a $51 million sale with the Housing Opportunities Commission of Montgomery County to buy the apartment complex for $51 million. On Nov. 19, Charger ended that agreement, according to Steven Lieberman of Rothwell Figg, the attorney representing Bethesda African Cemetery Coalition.
Last month, Montgomery County Circuit Court Judge Karla Smith issued a 51-page ruling in which she granted a preliminary injunction that  temporarily halted that sale. At that time, Smith ruled that the land in question contains the former Moses Cemetery, home of about 200 buried remains of African Americans, many of them former slaves, who once resided on River Road.
The evidence suggests that the bodies remain beneath the paved area, according to the ruling. Smith took to task the HOC, which she noted in her ruling was more concerned with selling the property than dealing with the burial ground.
Related Post
Bethesda African Cemetery Coalition Stages 'Victory Press Conference'