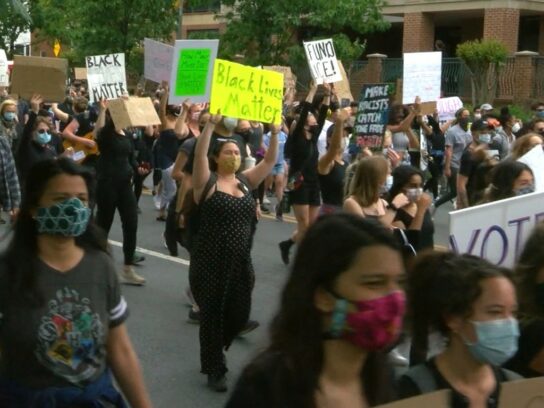 The Department of Justice (DOJ) sent a letter to Montgomery County Executive Marc Elrich and the county council on Wednesday with concerns about the county neglecting religious freedoms under the First Amendment while allowing the freedom to protest. 
In the letter, Assistant Attorney General for the DOJ Civil Rights Division Eric Dreiband asks Elrich and the council to modify the current Phase 1 executive order to allow people to assemble for religious reasons the same way people are assembling for Black Lives Matter (BLM) protests. 
"We urge you to ensure that your Executive Orders and enforcement of them respect both the right of your residents to assemble to express their views and the right to practice their faith," he said. Dreiband also asked for a timeline of when revisions will be made and what steps will be taken, should the county want to discuss further. 
The letter cites a specific protest on June 2 that began outside the Connie Morella Library in Bethesda. It says that the protest "reportedly involved hundreds of persons packed into a library," and allowing those gatherings but not religious ones raises constitutional concerns. 
To clarify, MyMCMedia had a news crew covering the June 2 protest, and the entirety of the event occurred outside of the library. No part of the protest was indoors. 
The letter goes on to say, "Compliance with the First Amendment is not optional, and the First Amendment protects both free exercise and assembly rights."
The crowd, or as much as I could get in frame right now. @mymcmedia pic.twitter.com/tnKBnYrdrY

— Maryam Shahzad (@maryam_mcm) June 2, 2020
On June 1, Elrich and the council released a statement supporting the BLM protests. 
"These protests are important so that the community can express their sense of loss and concerns as well as advocate for change," the statement reads. The DOJ's letter said that this particular statement of support of large gatherings contradicts the county's current order prohibiting gatherings of more than 10 people. 
"We are thus gratified that, although Executive Order No. 070-20 banned all gatherings larger than 10 persons, your June 1, 2020, Statement Supporting Freedom of Assembly and Public Safety committed 'to provide a protected environment for memorials, rallies, and nonviolent protests,'" the letter said. 
Under Elrich's current Phase 1 order, drive-in religious services are allowed. Cars with no more than 10 people can gather by religious facilities and engage as long as there is no contact with anyone outside of the vehicle. 
The county could begin Phase 2 of reopening next week. If this happens, limited indoor and outdoor services will be allowed. The distancing requirement is one person or family per 200 square feet. There is not yet any date for when Phase 3 may begin, however the county put out guidance that when it does begin one person or family will be allowed per 100 square feet.