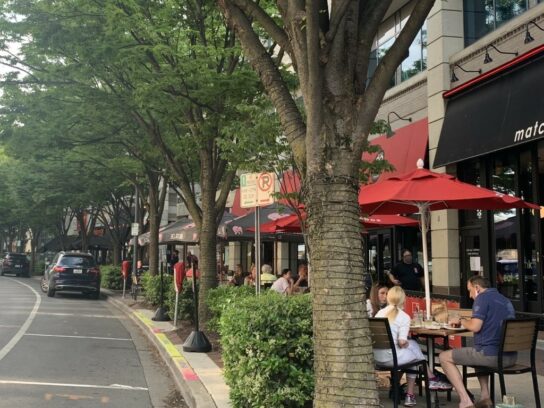 Downtown Bethesda is taking advantage of the warm weather and is opening a "streetery" which will create added outdoor seating for restaurants.
The "Streetery" will be open from 11 a.m. to 10 p.m. daily starting on Wednesday, June 10th, and will cause temporary street closures.
"Bethesda Streetery not only gives the community a safe dining option and enjoyable experience in our downtown but also provides restaurants with additional seating and the chance to once again connect more fully with their customers at a safe distance," said Executive Director of the Bethesda Urban Partnership, Jeff Burton.
The outdoor seating will follow social distancing guidelines, with tables at least six feet apart and a limit of four people per table. The tables will be cleaned after each use.
The streets and blocks impacted are:
Norfolk Avenue, between St. Elmo Avenue and Cordell Avenue
Norfolk Avenue, between Cordell Avenue and Del Ray Avenue
Woodmont Avenue, between Elm Street and Bethesda Avenue
Veterans Park, corner of Norfolk and Woodmont Avenues
Cordell Avenue, between the parking garage near Old Georgetown Road and Triangle Towers

Streetery hours are Wednesday – Sunday, 4 p.m. to 10 p.m. on Cordell Avenue