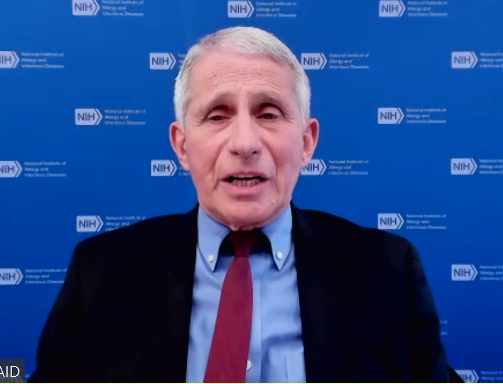 Dr. Anthony Fauci, President Joe Biden's chief medical advisor and director of the U.S. National Institute of Allergy and Infectious Diseases, spent 30 minutes Monday answering questions sent in by constituents of U.S. Rep. David Trone (D-6th).
Fauci was upbeat during the video session but warned that the United States is still averaging 53,000 new COVID-19 infections a day, so everyone must be careful, get vaccinated and wear a mask and social distance. "Masks may be here to stay," he said, noting how effective masks were in stopping the rate of influenza during this winter.
"Please get vaccinated when your time comes," said Fauci, who predicted that everyone should have their chance by the end of May. He said the vaccine's immunity lasts at least six to eight months, but could be "considerably longer." That won't be known until follow up studies are conducted.
Fauci believes the country is headed in the right direction to have full in-school education with the start of the new school year this fall. However, he said, if people stop wearing masks or start gathering in crowds, the virus may become too bad again.
As for children getting the vaccine, Fauci predicted that high school students would be able to by the fall but younger children will have to wait until the beginning of 2022.
Several times while answering questions, Fauci admitted that scientists don't have all the answers yet, noting, "We need more data." It will be necessary to research this virus for many years. For instance, he said, it may be necessary to receive booster shots in the future. He also said it was "theoretically possible" to still spread the disease even after being vaccinated, but added that the level of the virus in that person's system would be "very low."
"Please get vaccinated when your time comes," he said to the roughly 1,200 people who joined the Zoom.
Here is the complete question and answer session.