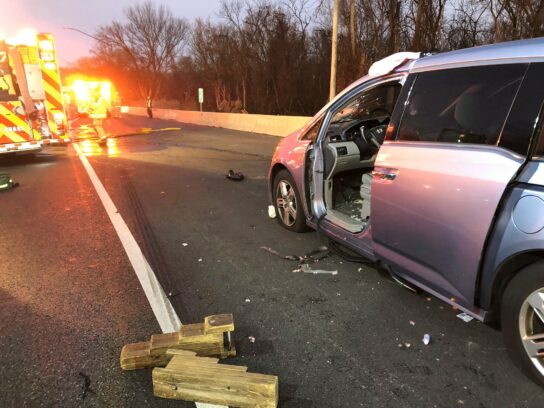 Metal debris crashed through a minivan's windshield and impaled the woman driving on the Outer Loop of the Capital Beltway, a fire and rescue spokesman said.
About a dozen rescuers needed 15 minutes to carefully remove the woman from the car and she was taken to a local trauma center, said Pete Piringer, spokesman for the Montgomery County Fire and Rescue Service.
At last report, she was in stable condition, he said.
Fire and rescue personnel arrived at the scene, near the exit with Md. 355, about 6:15 a.m., Piringer said, to find the woman's car on the shoulder. He described the debris as a 3-foot by 4-inch piece of steel.
The woman was awake and alert, he said.
Maryland State Police are investigating the incident, Piringer said.
Update (~615a) OL I495 beltway near Rt355 Rockville Pike, road debris flew thru windshield & struck driver, piece of 'metal stake' impaled driver, @MCFRS_EMIHS & @mcfrs Rescue crews extricated 1 adult female patient & transported Pri1 trauma, injuries are serious, patient stable pic.twitter.com/JVSfxaUHfJ

— Pete Piringer (@mcfrsPIO) November 26, 2019
Update – OL I495 Beltway near Rt355, patient has been extricated, @MCFRS_EMIHS evaluating 1 adult Pri1 trauma, several lanes blocked https://t.co/ZP1O3Q63iX

— Pete Piringer (@mcfrsPIO) November 26, 2019
More….single vehicle was involved, the debris was ~3' long, 4" wide, piece of steel that came through windshield & struck/impaled driver m, it took @mcfrs Rescue crews about 15 minutes to extricate patient from vehicle, @MCFRS_EMIHS transported https://t.co/rl2pibs7ty

— Pete Piringer (@mcfrsPIO) November 26, 2019