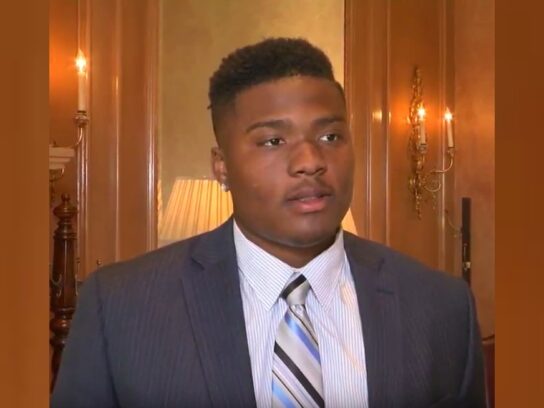 Bullis School faculty and the community remembered the legacy of former student football player and Pittsburgh Steelers' quarterback Dwayne Haskins, Jr., after the 24-year-old was fatally struck on a highway in Florida on Saturday.
In a statement Saturday, Head of School Christian Sullivan looked back on Haskins' impact on the Potomac school. 
"Dwayne was known as a standout athlete at Bullis, Ohio State, and in the NFL, and here at Bullis we also knew him as an honorable, smart, and family-oriented young man who graduated from college in three years," Sullivan wrote. 
"His loss will be felt deeply by so many people."
"Terrible news this morning, thoughts and prayer to the Haskins Family," Varsity Football Coach Patrick Cilento wrote on Twitter. 
"He leaves a legacy of what hard work can do, what believing in yourself can do," Assistant Football Coach Kevin Anderson told MyMCM. 
"The legacy that I think for me that stands out is don't take anything for granted and be grateful and have an attitude of gratitude every day," he said.
"He was a spiritual kid, a great kid, came from an awesome family, had been raised with good morals and values and represented everything that a student athlete should." Anderson said he told his daughter the breaking news after he saw it. 
"We've been a part of the Bullis community for like seven years now, and we remember when he was out here playing, and it was just a shock, you know, it was a shock."
It is with profound sadness that we recently learned that Dwayne Haskins '16, tragically passed away this morning in S. Florida. The entire Bullis community sends our sincerest condolences to his parents, Dwayne Sr. and Tamara, and his sister, Tamia '19. https://t.co/yajPmA3krI.

— Bullis School (@BullisSchool) April 9, 2022
Previous Posts:
Haskins Talked of 'Being Able to Live Out My Dream' of Playing in NFL