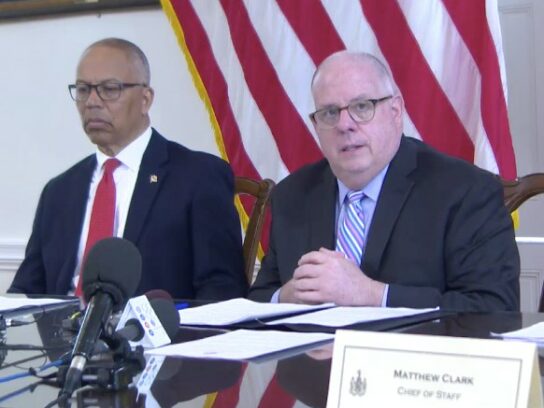 Update (6:15 p.m.): Gov. Larry Hogan announced a ninth coronavirus case confirmed in Maryland Tuesday evening.
The patient, a woman in her sixties, is a Montgomery County resident, Hogan said. According to Hogan, the coronavirus patient is connected to the Egyptian cruise, which involves five of the state's other coronavirus cases.
"This problem continues to evolve and to escalate rapidly," Hogan said in a statement. "I am fully committed to being transparent, providing the facts, keeping Marylanders informed, taking actions based on detailed planning, and making decisions based on the facts on the ground."
Today I convened an emergency meeting of my Cabinet to review the state's ongoing response to COVID-19. This problem continues to evolve and escalate rapidly, and I am fully committed to being transparent, providing the facts, and keeping Marylanders informed. pic.twitter.com/VEoPcdmINx

— Governor Larry Hogan (@GovLarryHogan) March 10, 2020
This afternoon, I met with leaders from Maryland's long-term care community. The state is taking every precaution to protect seniors and retirees, and today we announced new guidance for long-term care facilities to help protect older people: https://t.co/kNtL4ljm6E pic.twitter.com/Q9a8d76sfF

— Governor Larry Hogan (@GovLarryHogan) March 10, 2020
---
Original Post (4 p.m.): There are now a total of eight confirmed coronavirus cases in Maryland. 
Four patients are in Montgomery County, three are in Prince George's County, and one is in Harford County, said Gov. Hogan in a press conference today.
The first three cases were announced by Hogan on Thursday, March 5 as being in Montgomery County. On Sunday, two more cases were announced, one in Montgomery County and one in Harford County. On Monday, the first case in Prince George's (PG) County was announced, and today two more in PG County were revealed. 
The first PG County patient is a woman in her 50s who contracted the illness while traveling to Boston, Massachusetts, Hogan said. Officials said she had no contact with school children and she is in good condition while self-quarantined at home. 
PG County Executive Angela Alsobrooks said in a press conference that the two most recent patients in the county are a couple that officials believe traveled internationally on a cruise. They are also quarantined at home and in good condition.

Hogan said the three most recent cases of coronavirus, all in PG County, pose no major exposure risk to the community.
The first three patients in Maryland contracted the coronavirus while aboard the M.S. Asara cruise ship in Egypt, all from Montgomery County. Of the two patients announced Sunday, one is a Montgomery County man in his 60s who contracted the illness traveling to Thailand and Egypt. The other is a Harford County woman in her 80s who contracted the virus traveling to Turkey.
He recommended that residents over 60, who are the most vulnerable to the virus, avoid large crowds, traveling and planes as much as possible during this outbreak. He said nursing homes and retirement communities are the areas of greatest concern with regard to the virus. 
The Maryland Department of Health (MDH) recommends that nursing homes in the state restrict access to visitors and use online face-to-face interaction and phone calls. Staff should be restricted from international travel and monitored if they traveled outside of the U.S. in the last 14 days, or had contact with someone under investigation of the virus. If a staff member shows any sign of a respiratory infection, like a fever, cough or sore throat, they should self-isolate at home and contact their local health department. 
Hogan asked nursing homes to increase the availability of alcohol-based hand sanitizers, tissues, and face masks. He advised more signage for prevention measures in facilities and proper cleaning and disinfection of medical equipment, as well as limited sharing of equipment between residents. 
University System of Maryland (USM) Chancellor Jay A. Perman urged all 12 universities within USM to prepare for students to stay off-campus for at least two weeks after spring break in a statement. During those two weeks, Perman said schools should prepare for online instruction. Right now, Towson University has canceled classes for the rest of the week to prepare for possible online teaching. Towson had not announced online classes post-spring break, only that classes are canceled for the rest of the week. 
American University in Washington, D.C. announced it will shift to online classes for three weeks after spring break.
[hr] Previous post
Additional Coronavirus Cases Confirmed in Prince Georges County