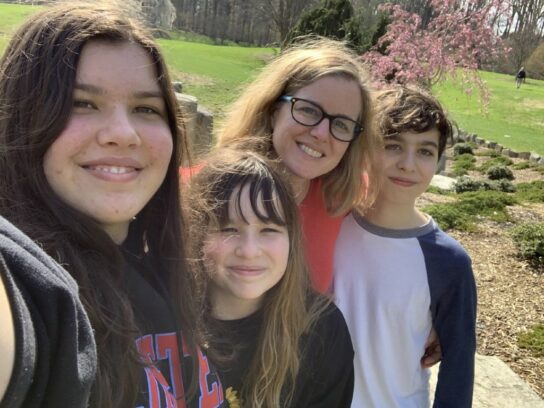 Over 100 families at Albert Einstein High School in Kensington have donated $5,750 in gift cards to help families at their school facing food insecurities during the coronavirus crisis.
A group of parents, led by Christine Alden, a parent with a sophomore at Einstein, worked together to help organize the donations of 115 $50 food store gift cards to support families at their school.
"For all of us, our main focus right now is going to the grocery story and getting food for our families. Our high school is very mixed income and there are families who are out of work, don't have the access to get to a grocery store and are running low on money," said Alden. "It seemed like a great opportunity for us to help out and people immediately stepped up."
The decision to help out families at their school came after Montgomery County Public Schools recently announced that they would not be providing meal distribution over the spring break. The idea for the donations was raised at a Parent Teacher Association meeting where parents brainstormed ways to help out families in need of support over the break, according to Einstein Principal Christine Handy.
"Our original goal was to help with this gap specifically and we are going to help some families with this gap, but this need is going to go on long beyond this weekend so our focus is to just try and help with what we can now," said Alden.
It only took four days to receive the donations from families at Einstein, according to Alden. The group's organizers set up drop off points for the gift cards and had families donate money through Venmo and Zelle. Many e-gift cards were donated by families as well.
https://www.instagram.com/p/B-w0f38BV_i/
"We understand that some of our families are in need during this challenging time and our goal has been to support them academically, and wellness has been a priority as well," Handy said.  This is a part of supporting our families with community resources and we just happened to be one of our own resources in this instance."
In order to distribute the cards, Alden and Handy are working with the school's wellness team, which includes school counselors, to gather the names of the families in need of support. The team is working on distributing the e-gift cards this week but is still working on finding the best way to distribute the physical gift cards.
Alden said that 115 families will receive the gift cards and they hope that they can build on that number in the future. Handy has been working closely with parents and counselors at the school to help families in other ways as well during the difficult time.
"This feels very local and I think people really want to help," said Alden. "We might be able to help in multiple ways, but this is just one way to do it that is very connected."