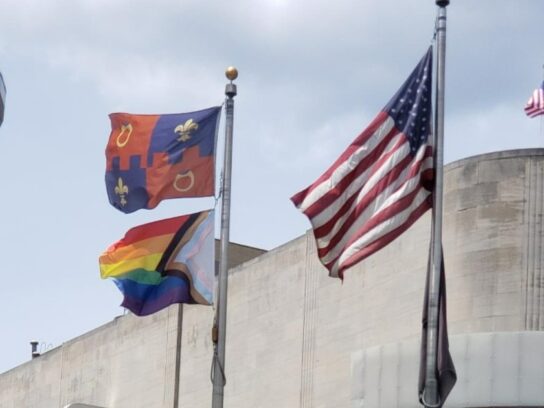 El condado de Montgomery izó el miércoles una bandera del orgullo LGBTQ+ en la Plaza de los Veteranos, en el centro de Silver Spring, marcando el inicio del Mes del Orgullo. A lo largo de junio, habrá actividades programadas, y la bandera del arco iris se izará sobre varias astas de bandera, tanto en edificios del condado como en empresas privadas.
Evan Glass, la primera persona abiertamente LGBTQ + en servir en el concejo del condado, dijo a MyMCM que estaba agradecido de que el condado de Montgomery sea una comunidad tan acogedora. "Simplemente me llena de orgullo", señaló.
El condado está organizando su segundo festival Pride in the Plaza, el 26 de junio en la Plaza de los Veteranos de Silver Spring. Pride in the Plaza es una celebración de una semana de duración de las comunidades LGBTQ + del condado. Todos los eventos son gratuitos.
"Estamos encantados de ser anfitriones de Pride in the Plaza nuevamente en 2022″, dijo Melvin Cauthen, administrador del programa de VIH / ITS del condado, y miembro del comité directivo del evento. "Este año, nos hemos expandido a una semana entera de eventos y, lo que es más importante, estamos construyendo asociaciones que continuarán conectando y apoyando a las comunidades LGBTQ + mucho más allá del Mes del Orgullo".
Para alentar a los residentes a asistir a múltiples eventos, el condado creó un "Pasaporte al Orgullo". Aquellos que asistan y obtengan sus pasaportes sellados en tres o más eventos de Pride in the Plaza se inscribirán para ganar premios. El pasaporte se puede encontrar en línea aquí o se puede adquirir en cualquier evento de Pride in the Plaza.
Así mismo hay planificado un Pride Family Day desde las 11 a.m. hasta las 2 p.m., el 11 de junio.
La Comisión de Derechos Humanos de la Ciudad de Rockville celebrará el sexto Orgullo anual de Rockville con un evento virtual el 5 de junio y una celebración en Rockville Town Square Park de 2 p.m. a 4 p.m., el 26 de junio.
Takoma Pride – Just Say Gay! se llevará a cabo el 12 de junio de 10 a.m. a 2 p.m. con una estación para tomar forografías de flores de arco iris.
Happy Pride! 🏳️‍🌈 🏳️‍⚧️

This year marks the fourth year that I'm organizing events throughout Montgomery County to honor and celebrate our LGBTQ+ community. From family day at Glen Echo Park to drag story hours, there's something for everyone. pic.twitter.com/IdeF0ljjIQ

— Councilmember Evan Glass (@CMEvanGlass) June 1, 2022