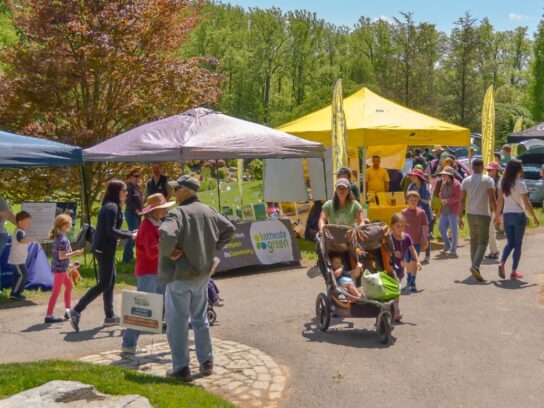 Para celebrar el Día de la Tierra, el condado de Montgomery organizará el séptimo GreenFest anual en Brookside Gardens en Wheaton, el 23 de abril. El festival gratuito será en persona en 1800 Glenallen Avenue de 11 a. m. a 5 p. m.
Según el sitio web, habrá más de 60 proveedores que hablarán sobre negocios ambientales, organizaciones sin fines de lucro y oportunidades educativas para la familia. Además, habrá camiones de comida locales, obsequios de plantas y actividades para niños como pintura de caras y escalada de árboles. Otros eventos en el festival incluyen una exhibición de autos eléctricos, una feria de arte y un zoológico de mascotas interactivo con música.
Save the date for GreenFest 2022! This year's GreenFest is in person at Brookside Gardens in Wheaton, Maryland, on April 23, 11 am to 5 pm. Celebrate Earth Month with activities, environmental education, and food for the whole family: https://t.co/mId3hiohHu.#MCGreenFest pic.twitter.com/qe9aCIw4TV

— Montgomery County Dept of Environmental Protection (@MyGreenMC) March 23, 2022
El tema del festival es "invertir en nuestro planeta", según el comunicado de prensa del condado.
Solo se permitirá el estacionamiento en el lugar para visitantes discapacitados, pero habrá estacionamiento gratuito y un servicio de transporte desde la estación de metro de Glenmont hasta Brookside Gardens a partir de las 10:30 a. m. No se permitirán mascotas en Brookside Gardens a menos que sean animales de servicio.