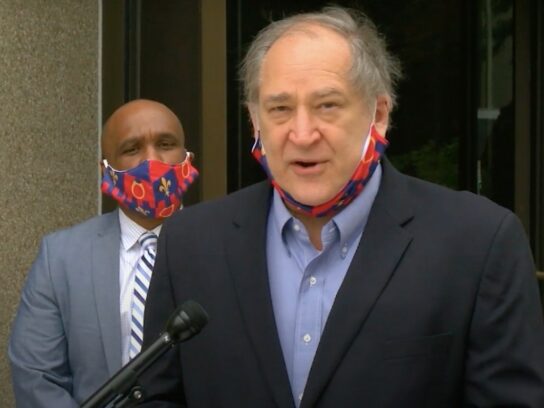 Montgomery County Executive Marc Elrich wants Gov. Larry Hogan to reconsider some recent reopenings following worsening COVID-19 metrics, Elrich said during a media briefing Wednesday.
Beginning March 12, the state lifted COVID-19 capacity limits on retail businesses, religious facilities, fitness centers, personal services and indoor recreational establishments. Large indoor and outdoor venues could start operating at 50% capacity. In Montgomery County, restrictions like gathering limits were also loosened effective March 12, and further reopenings, like increasing indoor dining capacity to 50%, went into effect March 26. However, county restrictions remain tighter than the state's.
County Health Officer Dr. Travis Gayles said that on March 8, statewide COVID-19 test positivity was 3.36% and all jurisdictions but one were below 5%. As of Wednesday, statewide test positivity is at 5.3%. 14 counties are above 5%, Gayles said. Test positivity in Montgomery County increased from 2.73% on March 8 to 3.22% on Wednesday, he said. Case rate per 100k in Montgomery County was 9.3 on March 8 and 11.95 as of Wednesday, Gayles said. No counties had a case rate per 100k greater than 25 on March 8; as of Wednesday, four counties do.
"When the governor made his announcement, I commented saying that I thought this was going to lead to another spike," Elrich said. "It has pretty much led to another spike— we have arrived. And I think it was totally predictable."
"The question I have for the governor is at what point do you look at the data and make a different decision?" Elrich said. "Or have we just made a decision that no matter where these numbers go, we're going to continue to stay open and hope eventually people get vaccinated and it goes away because of herd immunity?"
Elrich said some kinds of reopenings allowed by the state are more dangerous than others.
"I think the most problematic changes that were made were the lifting of limits on capacity, even in closed spaces, and particularly the restaurants where they were allowed to increase," he said. "Restaurants are the one place where people don't wear masks. They are the most dangerous place to open up." He hopes that Hogan is willing to look at recent data and "make what will ultimately be a short-term decision to back some things down in order to make this as safe as possible as we move to the point when there are enough vaccines in the state that we can do all of these things relatively safely."
Gayles agreed.
"I think that there does need to be consideration from the state level to consider walking back some of those provisions," he said. He noted that people move across borders and said a regional approach is necessary for the strategy to work.
"Yes, we can take individual action as Montgomery County. But in order to get the full benefit from protective measures, it really does behoove us to have a state and a regional approach to be able to guide these conversations," Gayles said. The health officer suggested the state offer guidance on what metrics would trigger potential action if they worsen. Elrich also said he hopes the county council examines data and "makes a decision based on where the data is." The council, sitting as the Board of Health, has the authority to pass COVID-19 regulations at the county level.
"I know what I think of the data," Elrich said.