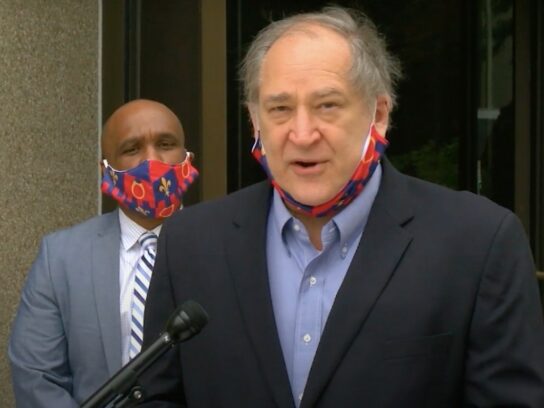 Publicación actualizada (5 de noviembre, 10:15 a.m): El Concejo del condado de Montgomery dijo que no votará sobre la orden ejecutiva del ejecutivo del condado de Montgomery, Marc Elrich, para restablecer algunas restricciones de COVID-19 hasta la próxima semana. Los cambios no entrarán en vigor el viernes a las 5 p.m.
El ejecutivo del condado de Montgomery, Marc Elrich, dijo que es hora de restablecer algunas restricciones de COVID-19.
"Hemos analizado los datos y hemos determinado que debemos volver a poner algunas restricciones adicionales. Y esperamos que esto reduzca la propagación del virus", dijo Elrich en una conferencia de prensa, el miércoles.
Elrich dijo que envió una orden ejecutiva con los siguientes cambios al Concejo del condado para su aprobación:
Reducir el límite de tamaño de reunión de 50 a 25 personas
Reducir la capacidad al 25% en: gimnasios, establecimientos de comida, museos / galerías de arte, establecimientos minoristas e instalaciones religiosas
Reducir la capacidad a 25% o 25 personas, lo que sea menor, para boleras y servicios personales.
Exigir a los restaurantes que recopilen información de contacto de los clientes para ayudar con el rastreo de contactos.
La orden entra en vigor el viernes a las 5 p.m. si el Concejo lo aprueba. Se espera que los miembros lo revisen en una reunión el jueves y hasta el momento, el Concejo ha aprobado las órdenes ejecutivas relacionadas con COVID-19.
El programa de venta de alcohol a altas horas de la noche del condado también se suspenderá, dijo el director de la Oficina de Manejo de Emergencias y Seguridad Nacional, Dr. Earl Stoddard, en la sesión informativa. El programa permite a los establecimientos de alimentos solicitar la venta de alcohol para consumo en sus instalaciones después de las 10 p.m. plazo hasta la medianoche, si cumplen determinados requisitos de seguridad.
Stoddard dijo que se ha cumplido con un segundo requisito para la suspensión del programa: el promedio de positividad de la prueba COVID-19 de 3 días excedió el 3,25%.
El promedio de casos de coronavirus nuevos en tres días superó los 100. El miércoles, el Departamento de Salud de Maryland informó 153 casos nuevos en el condado de Montgomery.
La posible suspensión del programa se discutió en una reunión del Concejo el 20 de octubre, momento en el cual hubo nueve días en los que el promedio de tres días excedió los 100. En ese momento, Stoddard dijo que el condado no tenía ninguna razón para creer que el programa de alcohol estaba vinculado a los promedios superiores a 100. Dijo que el rastreo de contactos no apuntaba en esa dirección, por lo que el programa continuó.
El miércoles, Stoddard dijo que el condado tiene la responsabilidad de seguir los requisitos del programa que se enumeran en la orden ejecutiva, por lo que a las 10 p.m. el corte de alcohol se restablecerá el viernes a las 5 p.m.
"Esperamos todo el tiempo que pudimos para asegurarnos de que se mantuvieran los cambios que hemos visto en nuestro recuento de casos", dijo Stoddard. "Pero dado que ambos son sostenidos y francamente están aumentando en su magnitud, nos dimos cuenta de que teníamos la responsabilidad de seguir las métricas originales y también proteger la salud pública".
Emergency Management Director Stoddard says the county met a second metric to suspend its late night alcohol sales program, which allows some establishments to sell alcohol for on-premise consumption between 10 pm-midnight.

It will be suspended Friday at 5 p.m. @mymcmedia

— Maryam Shahzad (@maryam_mcm) November 4, 2020
El miércoles, el promedio de siete días de casos nuevos del condado de Montgomery por cada 100,000 residentes es 13.4. Ese es un alto riesgo de transmisión según el panel de datos de coronavirus del condado. La prueba de positividad de 14 días del condado muestra un bajo riesgo de transmisión según el tablero, pero Elrich dijo que la forma en que Maryland calcula la tasa de positividad es diferente de otras áreas. Dijo que la positividad se calcula en función de la cantidad de pruebas realizadas, lo que no tiene en cuenta que algunas personas se someten a pruebas cada semana o incluso con mayor frecuencia.
Elrich añadió que no les dirá a los residentes que estén contentos con los retrocesos, pero que deben implementarse.
"Esperamos que la gente, cuando miren estos números, reconozcan que esto es algo que tenemos que hacer, nos guste o no", dijo.