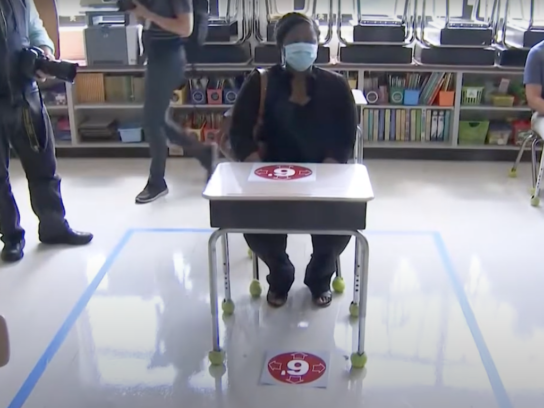 En junio, las Escuelas Públicas del Condado de Montgomery (MCPS) lanzaron encuestas, para padres de familia y personal, en las que pedían información sobre la educación para el semestre de otoño.
El martes, los resultados se compartieron en una reunión de la Junta de Educación. 55,839 residentes respondieron a la encuesta en línea, y alrededor de 7,000 respondieron a una encuesta telefónica dirigida a códigos postales con bajas respuestas en línea.
El 42% de los encuestados dijeron que planean enviar a sus hijos a la escuela. El 22% dijo que está planeando un aprendizaje solo virtual, y el 35% dijo que no ha decidido.
16,965 residentes respondieron a la encuesta en línea sobre el personal. El 25% de los encuestados dijeron que quieren volver al trabajo en persona. El 52% dijo que quería la oportunidad de trabajar virtualmente, y el 22% dijo que aún no estaba seguro.
En la encuesta para padres de familia, el 92% dijo que la salud física y la seguridad de sus hijos es muy importante. Otros factores que se consideraron, en al menos un 50%, son el distanciamiento social en clase, el recreo escalonado y el almuerzo, un día escolar escalonado y la equidad en el acceso y la actividad de los estudiantes.
En la encuesta del personal, el 93% dijo que la salud y seguridad del personal es muy importante. Al menos la mitad de los encuestados también dijo que la limpieza, los planes para el protocolo de seguridad e informar sobre la exposición de COVID-19, los asientos limitados, un horario escalonado, la equidad de los estudiantes en el acceso y la oportunidad, el apoyo de salud mental del personal y el trabajo remoto hasta que el regreso sea seguro son muy importantes .
MCPS Board of Education live meeting: The Board has been advised that the safest way to return to school is focusing on three areas:

1. Physical distancing
2. Face coverings
3. Regular hand sanitizing @mymcmedia

— Maryam Shahzad (@maryam_mcm) July 14, 2020
En un borrador del plan publicado el sábado, MCPS prevé comenzar el año escolar el 31 de agosto de forma casi virtual. Los estudiantes ingresarán gradualmente a la escuela para el aprendizaje en persona, comenzando con los estudiantes en programas de educación especial y aquellos que ingresan a nuevos niveles escolares.
MCPS planifica tres fases, cada una con una duración de dos a cuatro semanas, según el nivel escolar, el grado y la edad. El sistema escolar espera que todas las calificaciones estén en una rotación en persona para fines de noviembre, pero está preparado para cambiar al aprendizaje virtual solo si es necesario.
NOTA PREVIA
Así se Verían las Escuelas Públicas de Montgomery de Abrir sus Puertas en el Otoño