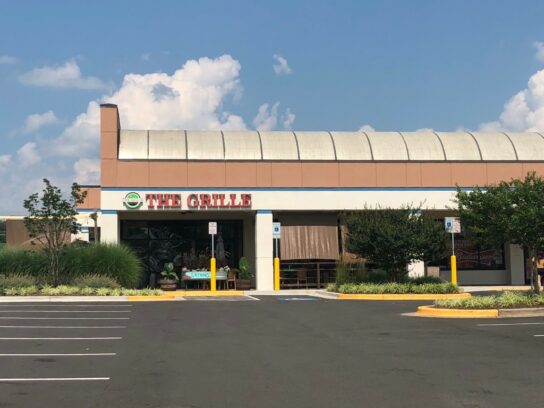 Montgomery County is "keenly" aware of the now-deleted Facebook post from The Grille at Flower Hill that said employees will not be wearing face masks, Office of Emergency Management and Homeland Security Director Earl Stoddard said during a council meeting Tuesday.
The Facebook post came after a Department of Health and Human Services (DHHS) environmental health inspector visited the restaurant on Thursday, July 2 after complaints were made about employees not wearing face masks. The inspector gave a "verbal reminder" about public health requirements during the COVID-19 pandemic. 
"Let me be very clear… my staff will not wear face masks while working here at the Grille," the post said. 
"If that bothers you then please dine elsewhere and please try to find something more important to occupy your time such as volunteer at a nursing home or soup kitchen. Whoever you are that filed the complaint, you need to take a good look in the mirror and try to find some real meaning in your life."
That post alone changed the situation.
"Once we saw that was the atmosphere or the attitude of the owner/operator and how they were going to proceed, that absolutely changes the calculus from it being an educational to an enforcement action based solely on that posting," Stoddard said. 
Complaints about The Grille were again received over the July 4 weekend and on Monday, July 6. The restaurant's normal operating days are Thursday-Sunday. It will be visited by the DHHS again on Thursday, July 9 when it reopens. 
"They will not reopen on Thursday under the circumstances of what they posted," Stoddard said. He said that this rejection of protocol was not the response from the restaurant upon the first visit from inspectors.  
Stoddard said most businesses that are not compliant make small mistakes, like distancing five feet instead of six feet. In those cases, the county educates employees and owners and comes back later for a follow-up visit. 
He said the greatest area with compliance issues is restaurants at night, particularly during the after-dinner period when they operate more like traditional bars. That is where and when most of the violations are observed, especially in regard to the consumption of alcohol around bars. Still, Stoddard said that in many cases the violations are not extreme, and county inspectors will educate and follow-up at a later date. He said many businesses don't realize they made a violation. 
The decision of education versus a citation is made on a case-by-case basis, Stoddard said. If the violation is egregious enough, and if there is enough evidence, a first-time citation may be given. However, in most cases violations are marginal and education is used first. 
Watch the council COVID-19 briefing below:
https://www.youtube.com/watch?v=4xn45hAu06Y