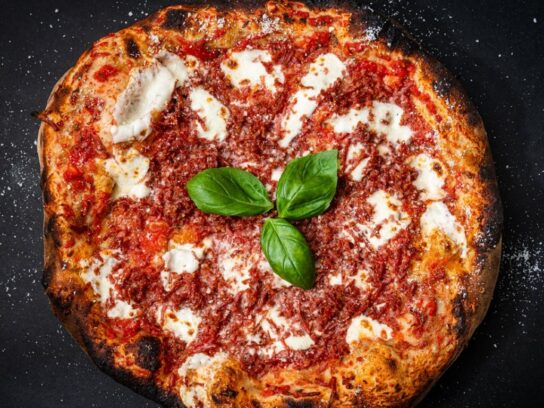 Ever since he was a kid, Maryland native Neil Dundee wanted to have his own pizza restaurant. On May 4, that dream becomes a reality when Eternal Love and Pizza, a new food truck in Darnestown, will open for business.
As a high-schooler he worked at McDonald's and at a Holiday Inn in Frederick. In college, Dundee got a lucky break studying under famous New York chefs Tony Fortuna and Charlie Palmer. He's opened and operated restaurants as far away as Mumbai and as close to home as Frederick.
Dundee has spent two years researching and preparing for this new venture, and perfecting his method "by using simple, but progressive ingredients." Eternal Love and Pizza will use fresh produce every day, and toppings will range from traditional pepperoni to more exotic truffle butter.
Menu items will be named after Dundee's favorite music artists and their hit songs. Offerings include the Fat Rabbit, with red sauce and a variety of mushrooms,  the Lucifer, with red sauce, red onion, salami, pecorino parmesan, hot honey, and chili flakes and the Little Red Corvette, with red sauce, red pepper, red onion, and shredded mozzarella.
An exclusive dip for the pizza crust called the Garlic Whip will be offered as well. Eternal Love and Pizza describes it as "a light and airy salted garlic whip to dip the rye dough crust for that perfect final bite."
The cost of 16-inch pies will range from $16-$20. A limited amount of ingredients will be used each day to maintain ultimate freshness, "so when they have it, they serve it; when it's all eaten, it's out! "
Attached to a restored 1973 Airsteam, Eternal Love and Pizza will be serving slices Wednesday through Sunday from 11 a.m. to 6 p.m. outside of Windridge Vineyards. Dundee will post daily specials on the truck's social media platforms.