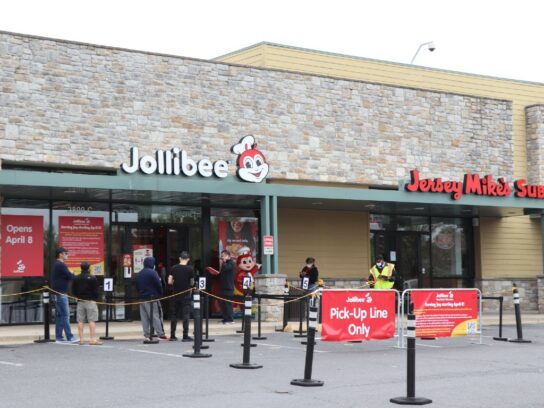 Filipino fast-food chain Jollibee opened its first location in the Washington, D.C. area at the Westfield Wheaton mall on April 8.
The chain, which is known for its "chickenjoy" bucket of dark meat fried chicken that is topped with brown gravy, was supposed to open its 2800 University Boulevard West location in Dec. 2020 but postponed the grand opening several times due to the COVID-19 pandemic.
"The @jollibeeus team is working extremely hard to bring you a Jolly grand opening and making sure logistics and safety protocols are top priorities for one of their biggest openings yet," stated Westfield Wheaton's Instagram on March 4.
https://www.instagram.com/p/CMBfvPEBHAi/?utm_source=ig_web_copy_link
Customers can preorder by calling the restaurant at 240-657-9850 up to two hours ahead of time and they will receive a text message when their order is ready for pickup.
Currently, the location only hosts curbside pick-up and to-go orders. At this time, there is no indoor dining due to the pandemic. Takeout and local delivery is available through DoorDash.
Other than the Wheaton location, the only location in the region is in Virginia Beach. Another location is set to open in Springfield, Va.
Nationwide, there are 48 stores in the U.S. with locations in Arizona, California, Texas, Florida, Nevada, New Jersey, Illinois, New York, Hawaii, Washington state and Virginia.
https://www.instagram.com/p/CNSoq4yhPjL/?utm_source=ig_web_copy_link