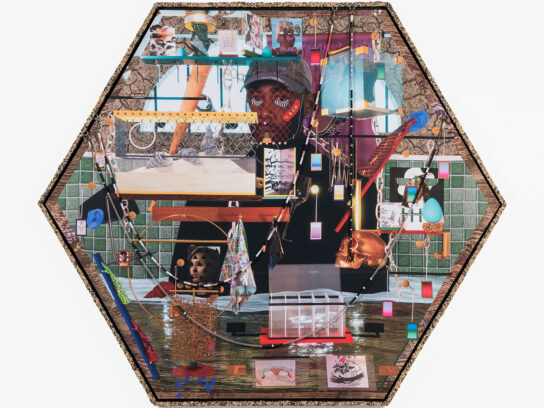 The jurors for the Bethesda Contemporary Arts Awards have selected eight regional artists in this year's competition. More than 300 artists from Maryland, Virginia and Washington, D.C. submitted work to the 18th annual competition.
The 2020 Trawick Prize finalists:
Erick Antonio Benitez, Baltimore
Cindy Cheng, Baltimore
Elliot Doughtie, Baltimore
Danni O'Brien, Baltimore
Nara Park, Washington, D.C.
Ginevra Shay, Baltimore
Bria Sterling-Wilson, Baltimore
Daniel Wickerham and Malcolm Lomax, Baltimore
Learn about each finalist, here.
Photos courtesy Bethesda Arts & Entertainment District
The winners of the competition will be announced on Sept. 2. The top three artists will receive $10,000, $2,000 and $1,000 awards. A prize of $1,000 will go to an artist who is younger than 30.
The exhibit of contemporary artwork will be on display Sept. 4 – 26 at Gallery B, Friday-Saturday, noon to 4 p.m.  The gallery is located at 7700 Wisconsin Avenue, Suite E. Social distancing will be enforced and face masks must be worn by all visitors.
The 2020 Trawick Prize jurors are Larry Cook, 2017 Trawick Prize Winner; Assistant Professor of Photography, Howard University; Carrie Fucile, Professor of Digital Art & Design, Towson University; and Noah Simblist, Associate Professor of Art and Chair of Painting & Printmaking; Virginia Commonwealth University.
The regional competition is one of the largest prizes to annually honor visual artists. Carol Trawick, a longtime community activist in downtown Bethesda, founded the competition in 2003.
The Trawick Prize has awarded more than $220,000 in prize monies and has exhibited the work of more than 135 regional artists. Previous recipients include Richard Clever, 2003; David Page, 2004; Jiha Moon, 2005; James Rieck, 2006; Jo Smail, 2007; Maggie Michael, 2008; Rene Trevino, 2009; Sara Pomerance, 2010; Mia Feuer, 2011; Lillian Bayley Hoover, 2012; Gary Kachadourian, 2013; Neil Feather, 2014; Jonathan Monaghan, 2015; Lauren Adams, 2016; Larry Cook, 2017; Caroline Hatfield, 2018 and Oletha DeVane, 2019.