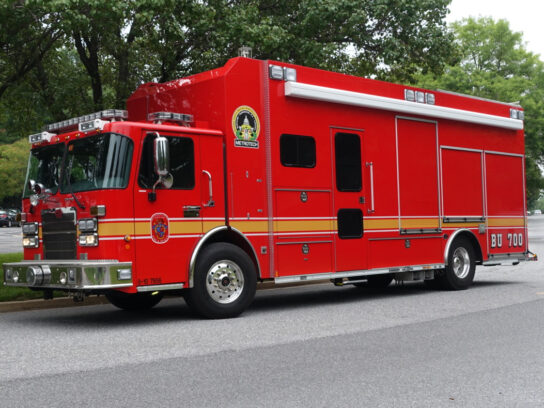 COVID-19 has taken its toll on the Montgomery County Fire and Rescue Service (MCFRS) with 110 career and 23 volunteer members unable to report to work.
Those 133 absentees are added to the approximately 75 staff members who already are away from work due to other occupational health issues or injuries, creating a 9% decrease in the number of emergency workers able to respond to calls throughout the county.
"We have dedicated men and women, but they are all tired. We are all strained from two years of this," MCFRS Chief Scott Goldstein said. "We are definitely at the max of what we can do."
Goldstein said, "Let me be clear, MCFRS will maintain Advanced Life Support care delivery and the ability to deliver water to burning surfaces to stop the spread of fires. However, we do need our residents and visitors to be aware of the challenges we are facing, and we appreciate their patience, cooperation, and support during these difficult times."
Adding to staffing concerns is the fact that hospitals are very busy and backed up. Therefore it is taking longer for emergency workers to deliver a patient to hospital employees, thereby making emergency run times longer, he said.
According to Goldstein, calls have increased by about five percent over 2019. Calls were down by eight percent during 2020 due to the pandemic, he said.
Throughout the pandemic, MCFRS prioritizes advanced life support care delivery and firefighting water delivery throughout the county.
In an attempt to make up for the staff reduction, firefighters who graduated from the academy in September and have firefighter and EMT experience, will begin full shifts. Normally, they would spend four days in field orientation, but that has been shortened by a day or two, Goldstein said.
Other firefighters and paramedics currently in training have been reassigned, and an EMS disposition officer position has been created to ensure load balancing at local emergency departments at county hospitals.
Also, volunteer partner departments have been asked to staff additional peak time transport units, according to a news release.
MCFRS redeployed staff from the Clarksburg Aerial Tower and the Laytonsville Rescue Squad's heavy rescue unit as these services have "a lower number of calls for service compared to the rest of the County," according to the news release.
"The recent surge in COVID cases has affected everyone including our front line first responders and those critical to our public's health and safety," said County Executive Marc Elrich in the news release.
"The staffing shortages we are seeing are putting a strain on our emergency response operations. The steps MCFRS is taking will enable extra personnel to fill critical gaps elsewhere without completely removing service from any stations," Elrich said.
"I want to thank MCFRS for these prudent decisions, wish all sick and isolating employees a speedy recovery, and recognize the hard work of all our firefighters and paramedics during these challenging times. I also encourage all residents to be aware of these staffing shortages and remember to only call or use 9-1-1 services in emergency situations."
According to the Montgomery County dashboard, 76.7% of MCFRS have received at least one dose of the COVID-19 vaccination. 6.4% reported that they are not vaccinated and 16.9% have not reported their status.
The department operates like other county departments and mandates weekly COVID-19 testing for all emergency workers who are not vaccinated.
Goldstein asked that residents only use 9-1-1 for emergency situations. He also urged everyone to wear a mask, keep social distancing, wash hands and  become vaccinated.
The recent surge in cases has affected everyone including our front-line first responders and those critical to our public's health and safety. The steps @mcfrs is taking will enable extra personnel to fill critical gaps elsewhere without completely removing service. https://t.co/MMWR0W876I

— County Exec Marc Elrich (@MontCoExec) December 29, 2021
ATTENTION: @MontgomeryCoMD @MCFRS_EMIHS @mcfrs on BLUE ALERT – hospitals are busy & many EMS resources are committed on calls – Please 'listen/watch' @mcfrs Fire Chief Scott Goldstein as he provides some basic guidance https://t.co/DwNYT7gLmr pic.twitter.com/ito1zQYqLL

— Pete Piringer (@mcfrsPIO) December 29, 2021