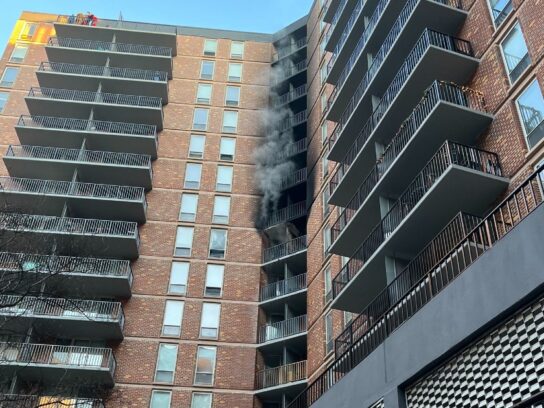 Montgomery County Councilmembers gathered for a "rare" triple committee meeting Tuesday, per Councilmember Andrew Friedson, to discuss fire safety and codes in the wake of a deadly high-rise apartment fire in Silver Spring last month.
On Feb. 18, a fire at Arrive Silver Spring killed 25-year-old Melanie Diaz, injured others and displaced many residents.
Three key factors impacted fire safety that day, working against the fire department and residents: lack of early notification, compartmentalization and suppression, Montgomery County Fire and Rescue Service (MCFRS) Chief Scott Goldstein said. 
Goldstein said the fire started accidentally in a unit on the seventh floor.
Authorities tell community members to "immediately get out, call 911" if they experience a fire. Goldstein said in this case, the occupants left their apartment, came back and found it on fire. As the fire continued to grow, they tried to fight it themselves without calling 911. 
Goldstein said the first notification of the fire came from a 911 call from an eighth-floor resident who said there was smoke coming from below their apartment via the balcony.
Authorities also tell residents to "close before you doze" — keeping doors closed as barriers to smoke and fire. This unit's balcony door was left open when the occupants had left. When they came back to the fire, they propped open the unit's door, spreading smoke and gases into the hallway. At some point during the incident, a stairwell door was also propped open.
"These circumstances — delayed notification as well as the compartmentalization — formed a worst case scenario as the fire growth is occurring unchecked, and were cutting off the primary means of egress from our residents by that smoke spread," Goldstein said.
The last factor was early suppression, the best head start being an automatic sprinkler system, or then firefighter hose lines. The Arrive apartment complex has sprinklers only in the stairwells and mechanical rooms, according to fire and rescue officials. There are none in individual apartment units.
"As we responded that day, we were faced with a scenario that exceeds many planning assumptions and many planning opportunities," Goldstein said.
As fire rescue crews ascended the stairs, there were hundreds of people exiting the building as stairwells were already becoming clogged with smoke.
The circumstances overwhelmed the robust initial response, Goldstein said. As crews advanced down the hallway toward the unit, they were faced with thick smoke, described as choking at best and deadly at worst.
Residents trying to exit were "collapsing on the firefighters as they were crawling down the hallway."
"This was one of the worst case scenarios for any fire department including myself, including ours," Goldstein said.
There were more than a dozen injured people.
The State Fire Marshal has previously mandated that all residential high-rise buildings be fully sprinkled by 2033.
About 75 high-rise residential buildings in Montgomery County have yet to reach sprinkler compliance, according to Assistant Chief Administrative Officer Dr. Earl Stoddard.
The county started with about 80 buildings when the requirement was set in 2019, Stoddard said, so seven or eight buildings have worked out a strategy.