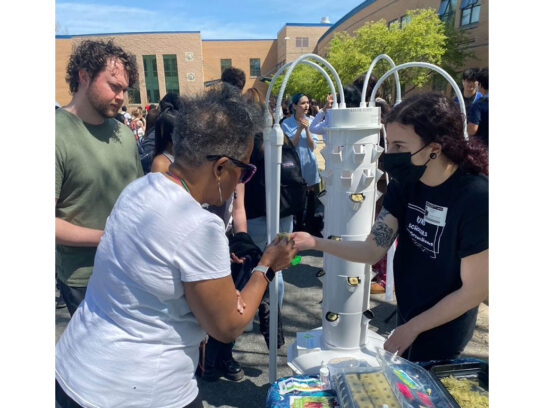 To celebrate Earth Day, Albert Einstein High School's club Food Grown partnered with the organization Food Grown Home (FGH) to build the first aeroponic tower garden at the school April 22.
The tower garden was implemented to "enable students to learn more about sustainable farming practices and empower them with the ability to grow their own food," according to a press release.
Food Grown at Einstein is led by club president Miranda Gray and was established in fall 2021. The club previously experimented with forms of hydroponic gardening, growing different types of lettuce for student lunches.
With the tower garden, club members can now grow a wider variety of vegetables, fruits and herbs.
In honor of Earth Week, FGH will be collaborating with Food Grown at Albert Einstein to establish the first ever Tower Garden in #MCPS at Albert Einstein HS! 🤩🥳

We are so excited to see what these students grow! 🌶🥕🥬#MOCO #Hydroponics #GrowYourOwnFood pic.twitter.com/ckT2Okrg1q

— Food Grown Home (@FoodGrownHome) April 16, 2022