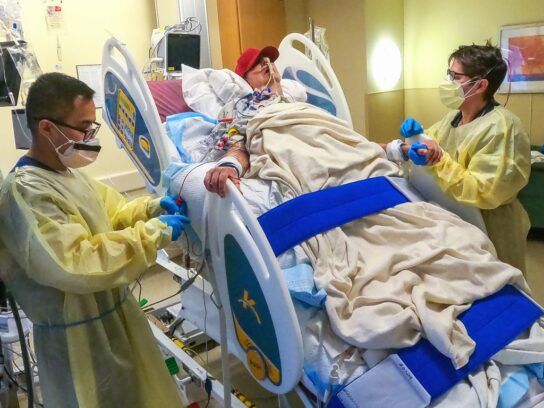 A Maryland man who received the first ever pig heart plant two months ago died on Tuesday, the University of Maryland Medical Center (UMMC) announced today. 
David Bennett Sr, 57, received the historic genetically modified pig's heart transplant on Jan. 7 at UMMC. The transplant was made possible by United Therapeutics, a Silver Spring-based biotech company. 
Bennett was a patient with terminal heart disease. His condition began deteriorating several days ago, UMMC said. He first visited the medical center in Oct. 2021 where he was "bedridden and placed on a heart-lung bypass machine, called extracorporeal membrane oxygenation (ECMO), to remain alive." He was deemed ineligible to receive a conventional heart transplant. 
On Dec. 31, the US Food and Drug Administration granted emergency authorization for the first ever pig heart transplant surgery in hopes of saving Bennett's life. He was informed of the potential unknown risks and benefits of the experimental procedure.

After the surgery, the transplanted heart performed well for several weeks with no signs of rejection. He was able to watch the Super Bowl with his physical therapist and often said he wanted to return home to his dog Lucky. 
"We are devastated by the loss of Mr. Bennett. He proved to be a brave and noble patient who fought all the way to the end. We extend our sincerest condolences to his family," said Dr. Bartley P. Griffith, who surgically transplanted the pig heart to Bennett at UMMC. "Mr. Bennett became known by millions of people around the world for his courage and steadfast will to live."
"We are grateful to Mr. Bennett for his unique and historic role in helping to contribute to a vast array of knowledge to the field of xenotransplantation," Dr. Muhammad M. Mohiuddin, Professor of Surgery and Scientific Director of the Cardiac Xenotransplantation Program at UMSOM, added. 
Bennett's son, David Bennett Jr. said, in a statement on behalf of his family, that they were very grateful for the life-extending opportunity provided to his father by the entire medical team at the University of Maryland School of Medicine and the University of Maryland Medical Center.
"​​Their exhaustive efforts and energy, paired with my dad's insatiable will to live, created a hopeful environment during an uphill climb. Up until the end, my father wanted to continue fighting to preserve his life and spend more time with his beloved family, including his two sisters, his two children, his five grandchildren, and his cherished dog Lucky. We were able to spend some precious weeks together while he recovered from the transplant surgery, weeks we would not have had without this miraculous effort," Bennett Jr. said. 
In the statement, the family also said they have felt the prayers of the world during the entire process and they humbly ask those prayers to continue for these kinds of initiatives in the future. 
"We hope this story can be the beginning of hope and not the end. We also hope that what was learned from his surgery will benefit future patients and hopefully one day, end the organ shortage that costs so many lives each year," Bennett Jr said. "We are grateful for every innovative moment, every crazy dream, every sleepless night that went into this historic effort. We pray that those looking for hope will continue to fight for the future, fight for new ideas, fight for answers, fight for life. Fight like Dave."
Related Post:
Maryland Resident Receives First Ever Pig Heart Transplant: 'It Was Either Die Or Do This Transplant'