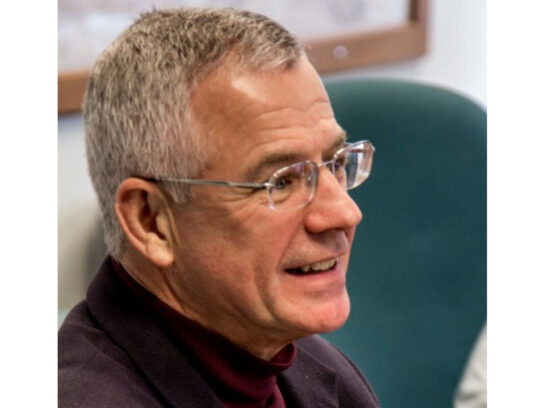 John "Jay" Kenney, the county's first chief of Aging and Disability Services, died Thursday morning. He had been diagnosed in the summer of 2019 with ALS, amyotrophic lateral sclerosis.
"Jay was one of the brightest lights we have ever had in MoCo. His leadership/public service have been an inspiration," tweeted Montgomery County Councilmember Gabe Albornoz.
The Department of Health and Human Services tweeted, "Sad to say that our former friend & colleague Jay Kenney, died this morning of ALS. He was a fierce advocate, compassionate leader & inspiration to all of us in the years since his diagnosis. He will be truly missed by us & many in the community who benefited by knowing him."
Montgomery County Executive Marc Elrich called Kenney "an incredible public servant and advocate for the disabled."
Kenney worked for the county for three decades, serving for 25 years as as the chief of aging and disability services. Under his leadership, his department won numerous national, state and local awards. He retired in 2018.
Kenney, of Rockville, became chief operating officer for the Jewish Social Services Agency in Rockville after he retired from his county position. He left JSSA in December 2019, several months after receiving his ALS diagnosis.
Todd Schenk, CEO of JSSA, said he considered it a privilege to have Kenney as both a colleague and a friend.
"Somebody like him who has had a distinctive and impactful career, you would think the first thing that comes to mind is his work," Schenk said. However, he added, what he thinks of first is how Kenney "really was a great, vibrant, fun, caring person to anybody he worked with."
Kenney served in the military from September 1972 until December 1974 and was assigned to the U.S. Army Agency for Aviation Safety in Alabama as a research psychology. He conducted research on ways to improve helicopters and pilot safety.
He was active in the Catholic Youth Organization and the Special Olympics for Army dependents and the local community.
Kenney earned an M.A. in Theology from The Catholic University of America and then earned an MSW and PhD in social work from the same school. He also earned an MBA at Southeastern University.
According to his biography with the county, he was the lead coordinator for the County Executive's two senior summits on vital aging in both 2008 and 2015.
Kenney chaired the Montgomery County Shelter Task Force that was responsible for disaster preparedness and response for more than 15 years. His post-9/11 disaster and mass care leadership were recognized both nationally and at the state level.
His leadership experience led to the creation of the Montgomery County Adult Protective Services Program, including the adjunct program of Public Guardianship.
Deeply saddened to learn of the loss of Dr. Jay Kenney today. Jay was one the brightest lights we have ever had in MoCo. His leadership/public service have been an inspiration. Condolences to his family. RIP my friend, we will continue your important work. pic.twitter.com/qUkT09DQlr

— Councilmember Gabe Albornoz (@albornoz_gabe) September 22, 2022
Sad to say that our former friend & colleague Jay Kenney, died this morning of ALS. He was a fierce advocate, compassionate leader & inspiration to all of us in the years since his diagnosis. He will be truly missed by us & many in the community who benefited by knowing him. pic.twitter.com/y9fMvULHUp

— Montgomery County DHHS (@MoCoDHHS) September 22, 2022