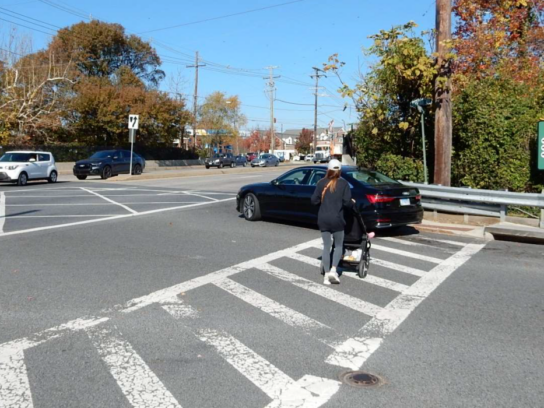 The design of Kensington's Connecticut Avenue Corridor could soon see major changes after the town released a study Tuesday examining pedestrian and cyclist safety in the area.
Connecticut Avenue received design plans for three layout alternatives from the study that would make the corridor more accessible for pedestrians and cyclists. The study also provided a variety of short and medium-term solutions to make the area safer.
The outlined solutions focused on the area of Connecticut Avenue between Knowles Avenue and University Boulevard.
The long-term plan for the corridor with the most community support was a separate bridge adjacent to Connecticut Avenue for cyclists and pedestrians.
Other long-term alternatives analyzed in the study included a plan to narrow the road and widen the sidewalk, an effort to create bike lanes and an improved shared-use path.
Nearly 70% of respondents to a survey included in the study said they often chose to drive, rather than walk or bike, to certain locations because of the "difficulty and stress" of crossing Connecticut Avenue without a car.
"We need to change that," Kensington Town Manager Matt Hoffman said in the town's Tuesday press release.
The study's completion is the first step toward creating a Bicycle and Pedestrian Priority Area Plan (BPPA) for the city, which would identify areas in Kensington where pedestrians and cyclists should be prioritized.
The design plans presented in the town's initial study are base-level and not finalized. But they will allow local, county and state officials to gather community input on the future of Connecticut Avenue. Stakeholders will use community responses and selected alternatives in the study to outline the area's future BPPA Plan.
As a short-term solution to the corridor's lack of safety, the report recommended that the city coordinates with Maryland Department of Transportation (MDOT) to install missing crosswalks and pedestrian signals along Connecticut Avenue.
The plan also emphasized that Kensington could benefit from the installation of bike paths on Plyers Mill Road in the near future. These bikeways would help connect Connecticut Avenue bicycle and pedestrian improvements to Rock Creek Trail, the MARC station and the Ken-Gar neighborhood.
"The study serves as a launching pad for further prioritizing pedestrian and bicycle accessibility and safety within the Town of Kensington," Kensington Councilmember Nate Engle said in the release. "These changes will improve connectivity for the town and the quality of life for Kensington residents."