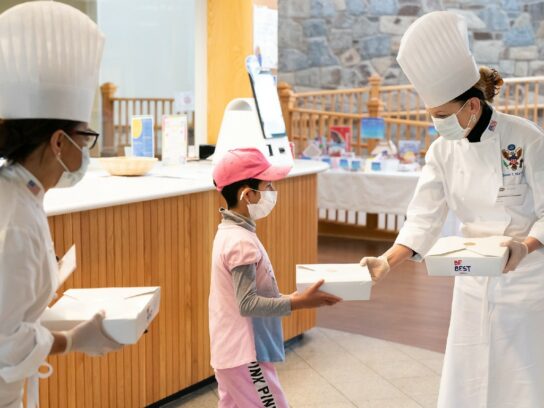 First Lady Melania Trump donated 150 boxed lunches to The Children's Inn at the NIH in Bethesda Tuesday.
The food was sent with contact-free delivery and packaged securely, according to Melania Trump's spokesperson Stephanie Grisham. The meals were delivered by White House staff and the White House executive chef and pastry chef.
Sending my best wishes to all of the wonderful children, devoted caregivers & medical professionals at @TheChildrensInn. We are grateful for all the work you do to provide the best care for your patients and their families. https://t.co/Aiwh2JlPae

— Melania Trump 45 Archived (@FLOTUS45) May 6, 2020
"Supporting those impacted by the effects of COVID-19 is something the First Lady cares deeply about, and as we navigate these unique times she will continue to reach out to people in a variety of ways," said Grisham in a statement.
Everyone wore face masks and maintained a safe distance, according to The Inn.
Jennie Lucca, CEO of The Inn issued the following statement thanking the White House for the donation:
We are so honored that the first lady and president of the United States are supporting the seriously ill children who are staying at The Children's Inn right now," says Jennie Lucca, CEO of The Children's Inn at NIH. "The first lady sent 150 individually packaged meals, hand delivered by the White House executive chef and pastry chef, along with several White House staff, of mac and cheese, cookies and fruit to our children and families, and I am told it's the most delicious mac and cheese! The White House staff – wearing face masks and maintaining a safe distance – also took the time to talk to our children and families about their roles, making this an extra special visit during an extraordinarily difficult time. The Children's Inn and our children and families will always treasure this very heartfelt support from The White House!