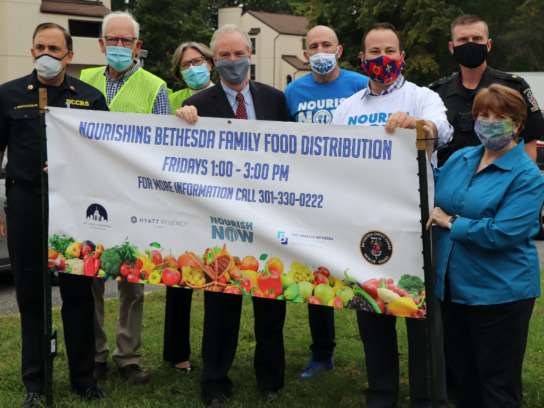 Nourish Now recently opened its 17th food distribution site in Bethesda, one of the wealthiest cities in America.
The distribution site, which is open Friday afternoons from 1 to 3 p.m., is located in the parking lot of Bethesda-Chevy Chase Rescue Squad on Battery Lane.
"Sometimes people think of the Bethesda community as a place where all the needs are met, you can see lots of people here to get some basic food and nourishment," Sen. Chris Van Hollen told MyMCMedia while he was visiting the distribution site Sept. 25.
According to 2018 data from the U.S. Census Bureau, the average income for Bethesda homeowners is $159,431 dollars per year. Still, hundreds line up at the Bethesda distribution site Fridays to collect food.
According to the nonprofit Feeding America, Montgomery County is projected to have a food insecurity rate for 2020 of 13.1%, which is an increase of 5.1% compared to its 2018 rate of 8%. The child food insecurity rate for 2020 is projected to be 20% in Montgomery County; the child food insecurity rate for 2018 was 11.1%.
Councilmember Andrew Friedson told MyMCMedia that the coronavirus has only "magnified" Montgomery County's food insecurity issues.
"These aren't new issues but the issues are more challenging than they've ever been because of the public health emergency and the resulting economic crisis because of it," Friedson said.
The Nourish Now Bethesda food distribution site is a community effort thanks to Nourish Now's partnerships with John's Episcopal Church, Norwood Parish, the Greater Bethesda Chamber of Commerce, the Hyatt Regency Bethesda, and the B-CC Rescue Squad.
https://www.instagram.com/p/CF2PCOFnapg/
"It started when St. John's Norwood Church and I had a meeting on Zoom and they said, 'How can we help?'" Friedson recalled. "'We know there's such need and we want to make sure that we aren't forgetting about our own backyard.'"
John Ross, a volunteer with St. John's Episcopal Church said the team of volunteers plans to maintain the Bethesda site at least through February.
"We've handed out food that accounts for about 44,000 meals and that's just in 5 weeks," Ross said. "We plan to run this through February next year."
Van Hollen acknowledged the need for legislation at the federal level to address food insecurity since aid from the CARES Act relief package is starting to expire. He noted that the U.S. House of Representatives passed a HEROES Act five months ago, but the U.S. Senate still has not taken the bill up for a vote.
.@NourishNow Founder Brett Meyers said the organization has donated 4 million pounds of food since Covid started. He says the organization will continue. @mymcmedia pic.twitter.com/3E9k0ibbVJ

— Deirdre Byrne (@DeirdreByrneMCM) September 25, 2020
"We need to provide another round of emergency relief really desperately," Van Hollen said.
According to Brett Meyers, the founder and executive director of Nourish Now, since March 13 the nonprofit has donated 4 million pounds of food to residents.