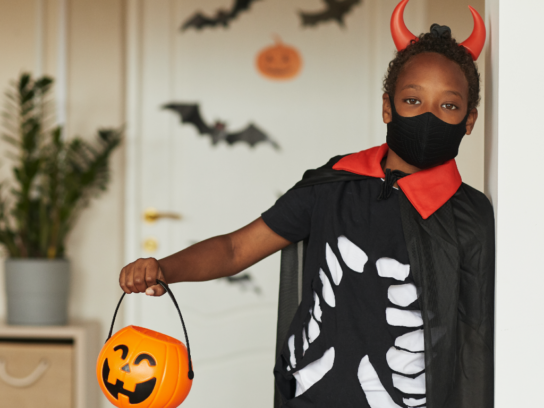 Montgomery County officials issued guidance Friday on keeping families and children safe during Halloween in light of COVID-19.
County officials are advising against traditional door-to-door trick-or-treating because of the "challenge of maintaining proper physical distancing on porches and at front doors." They are also advising against participating in activities where food is shared, such as "trunk-or-treating"—which involves children going car-to-car for treats instead of door-to-door.
In accordance with County Executive Marc Elrich's current COVID-19 executive order, individuals are not permitted to partake in activities involving more than 50 people. Therefore, large Halloween events—even if they occur outdoors—are not allowed. The county does not allow "[c]arnivals, festivals, live entertainment, and haunted house attractions" unless it has granted a letter of approval for the specific event.
The county says its guidance is intended to minimize risks for those who want to celebrate Halloween during the coronavirus pandemic.
"Many of the traditional ways of celebrating do not allow people to minimize contact with non-household members so it is important to plan early and identify safer alternatives to avoid the risk of spreading COVID-19," the county news release says.
🎃 As Halloween approaches, Montgomery County officials are offering guidance about how to celebrate safely during the COVID-19 pandemic. Details: https://t.co/A9DyTh7CCM. pic.twitter.com/1tDlPv1VSW

— Montgomery County MD (@MontgomeryCoMD) October 2, 2020
How Montgomery County Recommends Celebrating Halloween During the Pandemic
Montgomery County has several recommendations for physically distant-friendly activities to celebrate Halloween.
Participate in online parties and costumes (like costume parties and pumpkin carvings).
Decorate homes, yards, neighborhoods with Halloween decor.
Participate in car parades such as:

Drive-by events or contests where participants dress in costume or decorate vehicles.
Dive-in or drive-through events where people can remain safe in their vehicles and drive through an area looking at Halloween displays. For events like these, participants can "receive a treat bag (limited to commercially packaged nonperishable treats) or other takeaway item from an organizer while the participants remain in their vehicle."

Halloween movie nights at drive-in movie theaters that are in accordance with county health guidelines.
Eat a Halloween themed meal at an outdoor restaurant that complies with county health guidelines.
Check out Halloween-themed art installations at outdoor museums that adhere to county health regulations.
https://www.instagram.com/p/CF2L0Qmnqyt/
Montgomery County says that regardless of how one participates in Halloween, every individual should remember to stay safe by doing the following:
Wear a face-covering properly every time you leave your home to prevent the spread of disease;
avoid confined spaces that do not allow for the simple physical distancing of six feet separation between you and others;
avoid close contact with others, especially those who are not in your household pod, by keeping six feet away from all people—especially when eating, drinking, and talking;
follow safety practices when shopping in stores;
frequently keep hands washed and sanitized;
frequently clean items that are regularly touched;
and if you are sick or have had contact with someone who has COVID-19—or has COVID-19 symptoms—stay home.
Good morning Montgomery County! To slow the spread of COVID-19, one of the most important things you can do is to wear a mask and wear it properly. #MaskUpMoCo #SpreadLoveNotGerms pic.twitter.com/TWdWp1u2fI

— Montgomery County MD (@MontgomeryCoMD) October 2, 2020