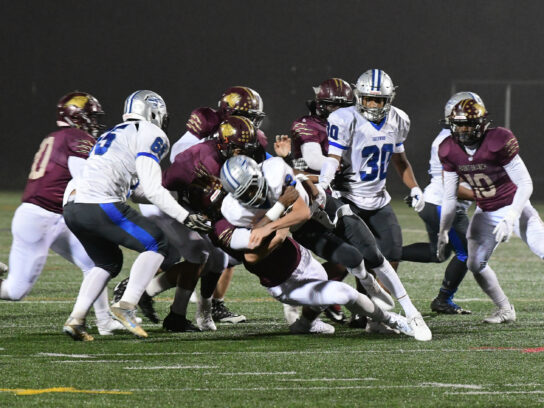 Football in full gear is back. Friday afternoon, members of the Montgomery County Council unanimously approved guidelines that let the already-shortened three-season high school season go on, although it is considered a "high-risk" sport.
Players must wear masks, participate in contact tracing and observe social distancing as much as possible. But according to two football players who testified, the athletes already have gone even further to avoid the risk of spreading COVID-19. They don't use locker rooms, always carry their equipment home every day and don't participate in huddles.
"The sport really means the world to me," Richardo Villars, a 16-year-old student at Montgomery Blair High School in Silver Spring, told the council. "When we are on that field, we are surrounded by friends and family," he said, adding, "I believe if you give us the chance, we can play the sport we all love, and play it safely."
Will Gardner, a junior who plays quarterback at Walter Johnson High School, told the council, "Football has been more than a game to me."  Without it, and with all the other changes due to the pandemic, "It was such a dark past year," he said.
Football is a motivator, both to be a better player and a better student, as well as a path to achieve a college scholarship, Gardner said.
Parent Kelley Eiskant, who has a son on the Kennedy High School football team, urged the council to "do what's right for our kids." Sports is important, she said, adding, "COVID is here to stay, and we have to learn to live with it."
Members of the council praised the students for their passion and commitment.
Councilmembers Hans Riemer and Craig Rice were the driving force behind the quick re-evaluation of football. In doing so, Riemer urged the students, "Be an example for your peers so that the schools can continue to be open. Let's all win this one together." He added, "It's going to be a big win for our students who need a big win."
Councilman Evan Glass agreed, noting, "This has been a tough year, and our youth have lost so much." Councilmember Will Jawando said, "I am glad we are taking this step," but added, "It's not without risk."
"Be safe. Be well. Be careful," advised Councilman Sidney Katz.
Before the teams can resume full contact football, they must submit a COVID-19 plan to the county health officer and his staff, who are expected to review it the day it is received, said Dr. Earl Stoddard, county director of the Office of Emergency Management and Homeland Security.
Several other speakers at Friday's hearing urged the council to remove its mask mandate for outdoor soccer, but the council did not, citing advice from the American Pediatric Association.
Listen to the council discussion here.
🚨BREAKING: MoCo 🏈 on to resume

According to a source familiar w.the situation,there was strong support for the resumption of play @MoCoCouncilMD this am

Council expected to meet again on Friday to approve a regulation that would take effect at 5pm Friday

Stdnt Aths…MASK UP pic.twitter.com/TAONsKL4k5

— Chad Ricardo (@RealChadRicardo) March 16, 2021
— John Kelley (@QO_Coach_Kelley) March 19, 2021
Pure joy echoed across fields. Expressions of happiness visible above the mask. We can do this. Trust and opportunity is all we ask. My son has not been this happy in over a year. @MoCoDHHS @EarlStoddard @MoCoCouncilMD @RealChadRicardo @QO_Coach_Kelley @WJWildcatFB @drjoshfunk

— UnbalancedRTK (@RoundTripperKip) March 18, 2021
Council votes to approve an updated Board of Health regulation with new guidance for sports. 🏈 ⚽️ 🏀 ⚾️
➡️View the Council staff report at https://t.co/V6ROepHkjX . pic.twitter.com/Q22bviCBN3

— Montgomery Council (@MoCoCouncilMD) March 19, 2021