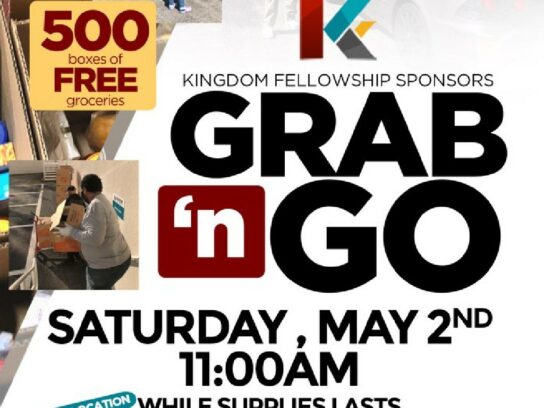 Kingdom Fellowship Church has partnered with Councilmember Will Jawando to distribute 500 Grab 'n Go boxes of free groceries on Saturday, May 2 at 11 a.m to families in need.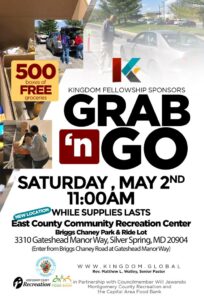 The groceries will be distributed in the East County Community Recreation Center Briggs Chaney Park and Ride Lot. The event is also in partnership with Capital Area Food Bank and Montgomery Recreation.
"I am very pleased to partner with Kingdom Fellowship, the Capital Area Food Bank and the Montgomery County Department of Recreation to provide food assistance to families who need it right now," said Councilmember Jawando. "It's inspiring to see local government, the County's faith community and our nonprofit partners come together to provide groceries for residents who need them. I recognize that this is just one small piece of a greater puzzle, and my colleagues on the Council and I are committed to finding every possible way to support residents during this trying time."
Kingdom Fellowship, Councilmember Jawando and partners organized two previous Grab 'n Go grocery events and are continuing to work to provide food assistance to residents in need, according to the county. The east area of the county includes zip codes that are among the most affected by coronavirus in the state of Maryland.
🚨Councilmember @willjawando has partnered with @kfamechurch, @foodbankmetrodc and @MoCoRec to provide over 1,000 boxes of free groceries to families experiencing financial hardship due to the Covid-19 public health crisis.

👀more: https://t.co/OcM4Tsi5VT pic.twitter.com/gpUBd93kp1

— Montgomery Council (@MoCoCouncilMD) April 30, 2020
On April 21 the council sent a letter to Gov. Larry Hogan and the county's State and Federal Delegations requesting more funding and coordinated efforts to help ensure food security for county residents. The council also approved a $260,000 special appropriation on March 31 to help with the efforts of Manna Food Center towards addressing increasing levels of food insecurity amongst residents due to the coronavirus crisis, according to the county.