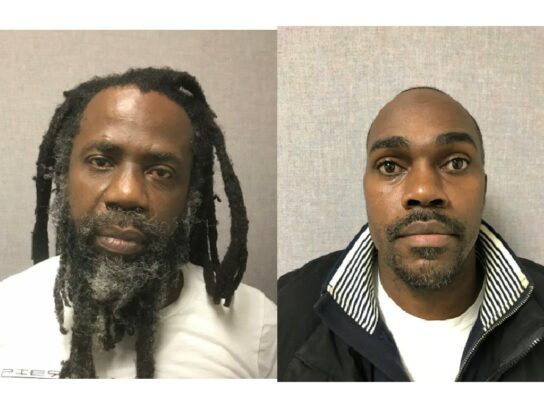 Montgomery County's Department of Police have arrested and charged two suspects following a home invasion robbery that occurred on January 10 in Fairland.
Suspects Dean Roy Thomas, age 49, of the 14700 block of 4th St. in Laurel and Luke Hinds, age 41, of the 1100 block of Woodduck Court in Upper Marlboro, were charged with home invasion and robbery related offenses, according to police.
Update: Two Suspects Arrested for Fairland Area Home Invasion Robberyhttps://t.co/PxtkAQiYFA pic.twitter.com/CTCpxOiQB5

— Montgomery County Department of Police (@mcpnews) April 29, 2020
Police said that on Friday, January 10 at about 6:45 p.m. officers responded to the report of a home invasion robbery in the 3000 block of Piano Lane. The victim was sleeping in a bedroom upstairs when the two suspects entered through an unlocked window. The first suspect went to the room where the victim was sleeping and pointed a gun at the victim, telling the victim to cover his head with a blanket, according to police.
A safe and other belongings were stolen by the suspect while the second suspect stayed downstairs and acted as a lookout, according to police. Hinds was arrested on February 12 and Thomas was arrested on April 28. They are both currently being held without bond.
Previous Post:
Fairland Home Surveillance Video Shows Suspects Stealing Safe