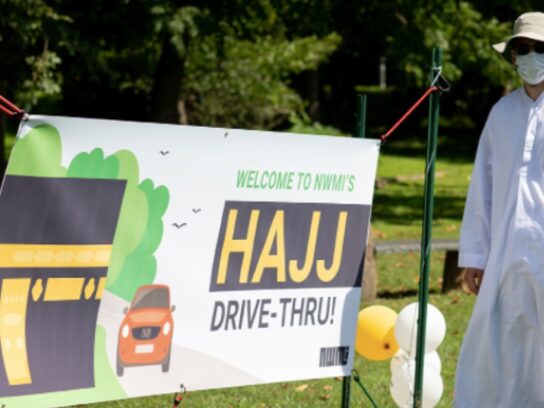 All of the essential rituals of Hajj – a demonstration of the solidarity of Muslim people that takes place in Mecca, Saudia Arabia – were brought to Montgomery County in the form of a drive-through in Sandy Spring on Sunday.
The Hajj is an annual pilgrimage to Mecca that all Muslims attempt to make at least once in their lifetimes. The pilgrimage lasts approximately five to six days, depending on the lunar Islamic calendar. It is a journey full of meaningful rituals intended to promote introspection and unite millions of Muslims together in their shared humanity regardless of their race, class, or gender.
This year, Mecca is closed to visitors for the first time in recent history due to COVID-19. But Next Wave Muslim Initiative (NWMI), a nonprofit organization that serves American Muslims in the D.C. area, brought Hajj to Montgomery County.
All of the important rituals of Hajj were recreated in the Sandy Spring Friends School parking lot on Norwood Road. About 180 cars participated in the drive-through ceremony. 
MyMCMedia spoke to NWMI team member Mais Alraee who describes how the religious event was safely celebrated in the video below: