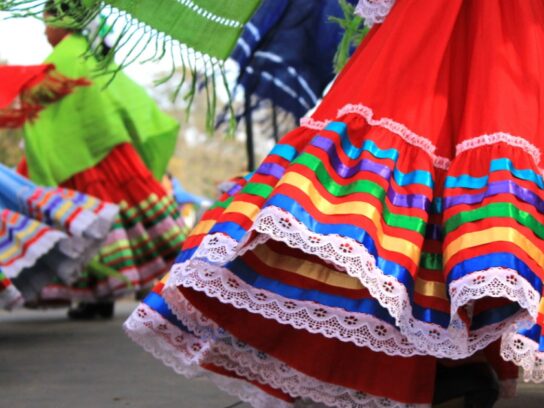 The city of Gaithersburg offers cultural presentations and activities during Hispanic Heritage Month (HHM), which is observed annually from Sept. 15 through Oct. 15. HHM celebrates the culture and traditions of residents whose ancestry can be traced to Spain, Mexico, and the Spanish-speaking nations of Central and South America and the Caribbean. 
According to the 2020 Census, more than 28% of the city's population identify themselves as Hispanic or Latino.
Hispanic Heritage Month, recognized by the city, encourages residents to learn more about and celebrate Hispanic culture, according to a press release.
Events during the month include: 
Evenings in Olde Towne: Quimbao Latin Band
Thursday, September 8, 6:30 – 8 p.m.
City Hall Concert Pavilion
Free
Bring a blanket or chair to enjoy the Latin sounds from Quimbao Latin Band.

In the Galleries: Hispanic Heritage Celebration Art Exhibit
Friday, September 9 – Sunday, November 13
Activity Center at Bohrer Park
Free
Meet the artists at a reception on Thursday, September 15 at 7 p.m.

Hispanic Heritage Month Educational Display
Thursday, September 15 – Saturday, October 15
Activity Center at Bohrer Park
Free
Explore Gaithersburg's Latinx community with an educational display depicting an anthropological analysis of the life stages of 1.5 Generation Latinx immigrants in  Gaithersburg. Learn about the ways Latinx adolescents hold on to their culture and share it with our community. This event is sponsored by the Multicultural Affairs Committee in collaboration with the Gaithersburg Community Museum.

Tasty Books: Nacho's Nachos
Saturday, September 17, 10:30 – 11:30 a.m.
Casey Community Center
$5 per person
Register online here.
Celebrate Hispanic Heritage Month with Nacho's Nachos: The Story Behind America's Favorite Snack. In this story by Sandra Nickel, meet Ignacio "Nacho" Anaya and learn the true story of how he invented the world's most beloved snack in a moment of culinary inspiration. The Tasty Books program brings stories to life with hands-on crafts and snack-making. Recommended for preschool-aged children (ages 2 to 8). Adult supervision required. Individual tickets must be purchased for each child and adult.

Community Museum Drop-In Activity
Saturday and Sunday, September 17 and 18, 11:30 a.m. – 3:30 p.m.
Community Museum
Free program
Stop by the Gaithersburg Community Museum to make a Guatemalan worry doll. Reservations are not required.

Hispanic Heritage Festival
Thursday, September 22, 5 – 6:30 p.m.
Benjamin Gaither Center
Free; registration required.
Register online here.
Join the Benjamin Gaither Center for its Hispanic Heritage Festival, a cultural extravaganza with traditional Mexican folk dance, an artifacts display, and food tastings. This event is sponsored by Asbury Methodist Village and the Benjamin Gaither Center with the collaboration of De Colores Mexican Folk Dance Group.

Dracula – 1931 Spanish-language version with English subtitles
Friday, October 14, 7:30 p.m.
Arts Barn
$10 per person
Purchase tickets online here.
While Tod Browning directed the English-language version of Dracula during the day, George Melford would direct the Spanish-language version at night using the same script and sets. Many consider the Spanish-language version to be the superior version of the two. While this version is longer by almost half an hour, there are no added scenes but each scene plays out longer with added dialogue. There are also more sound effects and bits of music in the Spanish version.
More information is available on the city's web page, Hispanic Heritage Month.