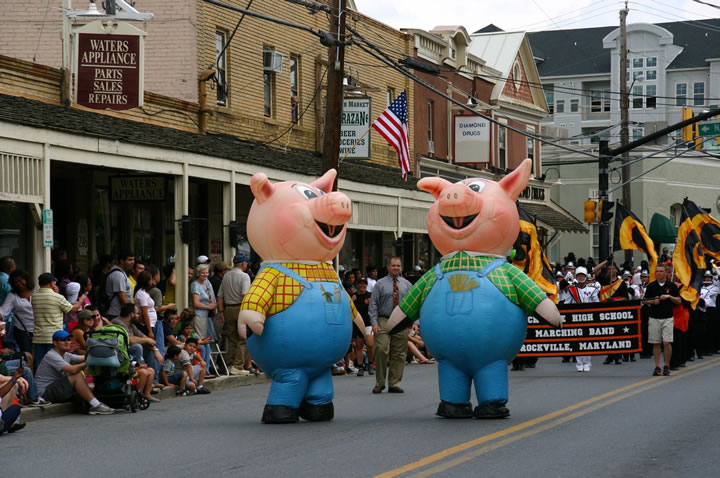 Gaithersburg Labor Day Parade
The 75th Annual Labor Day Parade will take place on September 2 at 1 p.m. in Olde Town Gaithersburg, rain or shine. This year's parade is dedicated to the law enforcement community in honor and celebration of the 50th anniversary of the Gaithersburg Police Department.
The parade features an assortment of high school marching bands, costumed characters, cars and fire engines, horses, clowns, and more, winding through East Diamond and Russell Avenues in Olde Towne Gaithersburg. City of Gaithersburg and Montgomery County police equipment, including motorcycles, cruisers, segways, and a Bearcat armored vehicle, will also be on display. Julie Wright, traffic reporter for WTOP News Radio and member of the Fox 5 Morning News Team, joins the parade as Mistress of Ceremonies.
Free parking is available in the Olde Towne garage, located at the corner of Olde Towne and South Summit Avenues. Handicap parking will be located behind the Victor Litz store on the north side of Diamond Avenue, and behind the Shell station on Summit Avenue. Free shuttle bus service will also be provided from the Lakeforest Shopping Center transit station to Gaithersburg Elementary School beginning at noon.
Gaithersburg's Labor Day Parade is one the city's oldest traditions. The Gaithersburg Fire Department established a rescue squad in 1938 and that year they hosted traditional fundraising events such as dinners and dances and a Labor Day Parade. Early parades included a band competition, carnival booths and a dance. Eventually the carnival and dance aspects ceased to be a profitable way for the department to earn money, but the volunteers did continue to sponsor the Labor Day parade until 1977, when a citizen's committee undertook the task of organizing the end-of-summer festivity. The event is now coordinated by the City of Gaithersburg Department of Parks Recreation and Culture, with continued support from the Gaithersburg-Washington Grove Fire Department. It has been held every year except 1942, during World War II.
The parade will be held rain or shine. It is sponsored in part by Backyard Inflatables, Charelle's Stage & Screen, Maryland Transit Administration, Morton's Towing & Recovery, Nu Look Home Design, and Panda Express.
For more information call 301.258.6350 or visit the Gaithersburg website.