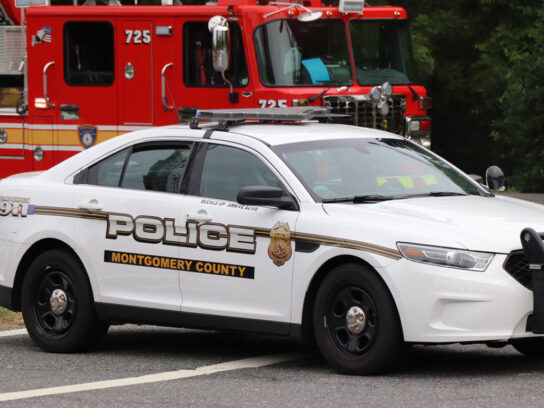 UPDATED DEC. 1, 2:00 p.m.
Police identified the man who was killed in the Nov. 29 collision. He is Anupom Ghosh from Gaithersburg.
_____________________________________
A 49-year-old Gaithersburg man was killed following a crash Monday evening at the intersection of the Midcounty Highway and Saybrooke Oaks Boulevard in Gaithersburg.
The collision at about 8 p.m. involved an overturned car.
According to Montgomery County Police, the driver of a black 2021 Toyota Camry was traveling south on the Midcounty Highway as the driver of a maroon 2018 Honda CRV, who was driving northbound, attempted to make a left turn on to westbound Saybrooke Oaks Boulevard. The two vehicles collided in the southbound lanes of the Midcounty Highway, which caused the Honda to roll and then strike a large metal traffic light support pole.
The Honda stopped on its side. Both drivers had to be extricated by Montgomery County Fire Rescue personnel.
The driver of the Honda was taken to the hospital, where he later died. The driver of the Toyota also was taken to the hospital with non-life threatening injuries.
Police did not identify the Gaithersburg man but will do so once the family is notified.
MCP Collision Reconstruction Unit is investigating. Anyone with information is asked to call the detectives there at 240-773-6620.
Update – Midcounty Hwy CLOSED Between Goshen Rd. and Shady Grove Rd., 2 patients extricated, @MCFRS_EMIHS transported 2 adults, both Pri1 trauma patients, some lanes blocked @MDSHA https://t.co/GzN0xP4Nuv pic.twitter.com/3zZlD1CeA1

— Pete Piringer (@mcfrsPIO) November 30, 2021
Detectives Investigate Fatal Collision in Gaithersburghttps://t.co/m9aWehpjtQ pic.twitter.com/BEfB1SoSdN

— Montgomery County Department of Police (@mcpnews) November 30, 2021