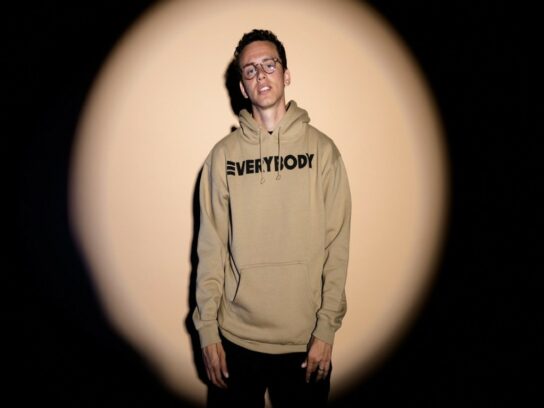 One week after officially announcing his retirement at the age 30, Montgomery County native Sir Robert Bryson Hall II, better known to his fans as "Logic," dropped his sixth and final album, "No Pressure."
The rapper explained how he plans to use his newfound time to focus on fatherhood.  He tweeted, "It's been a great decade. Now it's time to be a great father." Logic and his wife had a baby boy last August.
Born at Rockville's Shady Grove Hospital and raised in Gaithersburg, the young rapper had to endure homelessness, addict parents, working multiple jobs all while supporting himself. He was expelled from Gaithersburg High School in 10th grade for skipping classes but found a connection with music and experienced a tremendous amount of success over the years. He was nominated for two Grammy Awards in 2017 for song of the year and best music video both for "The Suicide Song."
In 2009, Logic released his first unofficial mixtape,"Psychological-Logic"under the stage name "Psychological." The success of the mixtape allowed him to serve as the opening act for artists such as Pitbull, EPMD, Method Man, Redman, and Ludacris at several shows throughout Maryland. Shortly after, he shortened his name to "Logic."
His songs primarily focused on life issues such as social injustice, inequalities, and rough upbringings."1-800-273-8255," also known as "The Suicide Song," describes an imaginary phone call to a suicide prevention hotline.
Despite his decision to retire, Logic's career is far from over.
Following the release of his new album, Logic announced his new deal with Twitch, a streaming platform for gamers. Logic plans on streaming weekly gaming sessions and studio sessions, guest interviews, as well as chat with fans.
Glad to have you back @Logic301. Feel free to drop in anytime. It's been a minute

— Twitch (@Twitch) July 20, 2020
"The Twitch community brings this amazing group energy that you don't really get anywhere else. It's something that we crave as artists but has been especially hard to come across the last few months," said Logic in a news release. "I want my Twitch channel to be a place of creation but also collaboration, and I know the Twitch community is going to love what we've got planned. I'm stoked to be able to work with the team at Twitch and open up my world to fans in this way."
For now, fans can click here to listen to Logic's new album.