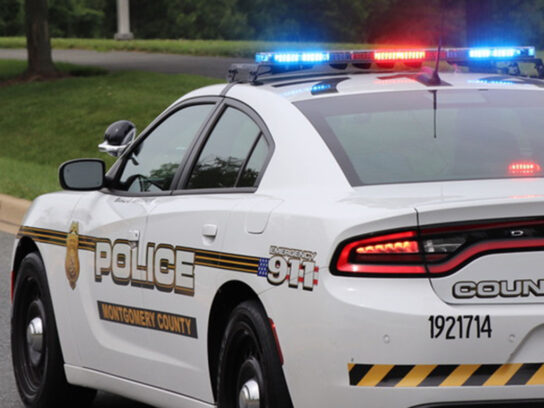 Updated (7 p.m.): Two officers were responding to a parking complaint for a vehicle blocking a driveway leading into the Spring Ridge Apartments, Gaithersburg Police Chief Mark Sroka said while updating reporters Wednesday evening. After making contact with the vehicle's driver, the officers suspected they were under the influence and began investigation, Sroka said. While interacting with the driver, Sroka said, the officers heard one gunshot fired from a top floor balcony and immediately took cover.
Sroka said no one was struck from the one round fired. As soon as the search for suspect(s) is completed, he said the public will be notified of the outcome.
The police chief said it is under investigation whether the shooter was targeting the officers. Sroka said he watched body camera footage and said that from his perspective, there was "clearly one gunshot that was fired in the vicinity of the officers." Sroka said he could not determine from the footage if the officers were fired "upon."
"It's possible they were, but I cannot conclusively say that at this time," he said.
Police are lifting the shelter-in-place for residents of the 300 block of N. Summit Avenue as investigation continues.
[hr]
Original (5:40 p.m.): Gaithersburg Police (GPD) officers say they were shot at while responding to a call on North Summit Avenue, Montgomery County Police (MCPD) said.
MCPD said there are no reported injuries. GPD officers were dispatched to 392 N. Summit Ave. for a parking hazard around 3 p.m. Wednesday afternoon, according to MCPD. The GPD officers say they were shot at from a higher elevation while responding to the call, MCPD said. Additional officers responded and both police departments are searching for suspect(s).
MCPD tells residents to avoid the area and GPD encourages residents to shelter in place.
This story is developing and will be updated.
No reported injuries. Avoid area.

— Montgomery County Department of Police (@mcpnews) April 14, 2021
We are encouraging residents to shelter in place as this is an active scene. https://t.co/Y4ryqlxs7q

— Gaithersburg Police (@GPDNews) April 14, 2021